Information is wealth.
That statement is so right when the topic is SEO and your job is content marketing.
The bigger the data on your target customers' searching habits or intents, the easier the success of your content marketing efforts.
Knowing how people would search for a given trend or even better knowing what's trending in a given niche, gives you immense power to outperform big websites with immense topical authority and backlink power.
There are a few ways and tools to help you find what people are searching for
Topic Specific Forums
Google.com
Google Trends
Exploding Topics
Social Media Search – Instagram, Facebook, Twitter, Pinterest
Topic-Specific Forums – The Best Way
For instance, recently there was a problem with Chat GPT. Open Ai was giving "you don't have access t chat.openai.com" error messages to some people. People started asking this question on chat forums on the Chat GPT.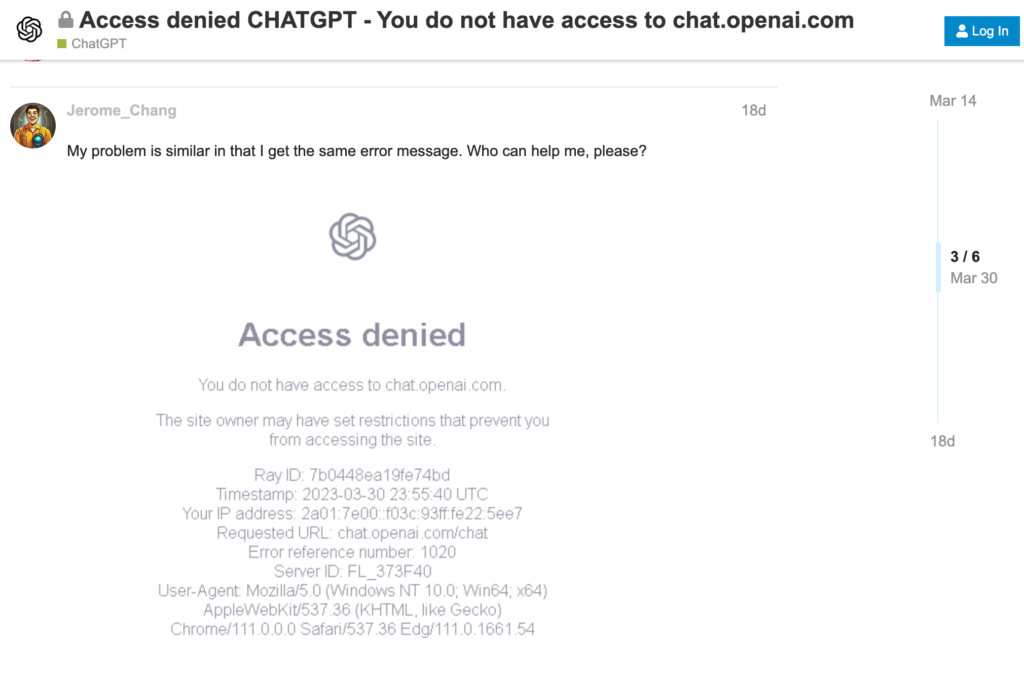 Some smart blogger observed this and came up with a simple post with possible solutions and started seeing an immense traffic boost to that page.

Even though the blog does not have any link power, this particular post was able to generate tons of traffic.
This way, if you are starting new, you really need to pick your topics right. More than keywords or keyword research, a lot now depends on topic research. (In my opinion, topic and sub-topic research is the new keyword research)
Note: The tool I used in those screenshots is Ahrefs SERP Toolbar
Though Ahrefs is coming up with new strategies to collect data from their customers GSC, they are still not there yet with the trends game.
But there are a few other tools that can help you observe these trends. The good thing about them is they are all almost free.
Google.com – The Best Topic Research Tool For SEO.
If you are in the SEO field, you are well aware of the fact that Google.com gives tons of information related to your search query and the way people are searching that particular query. All you have to do is type in your query and add an alphabet after it.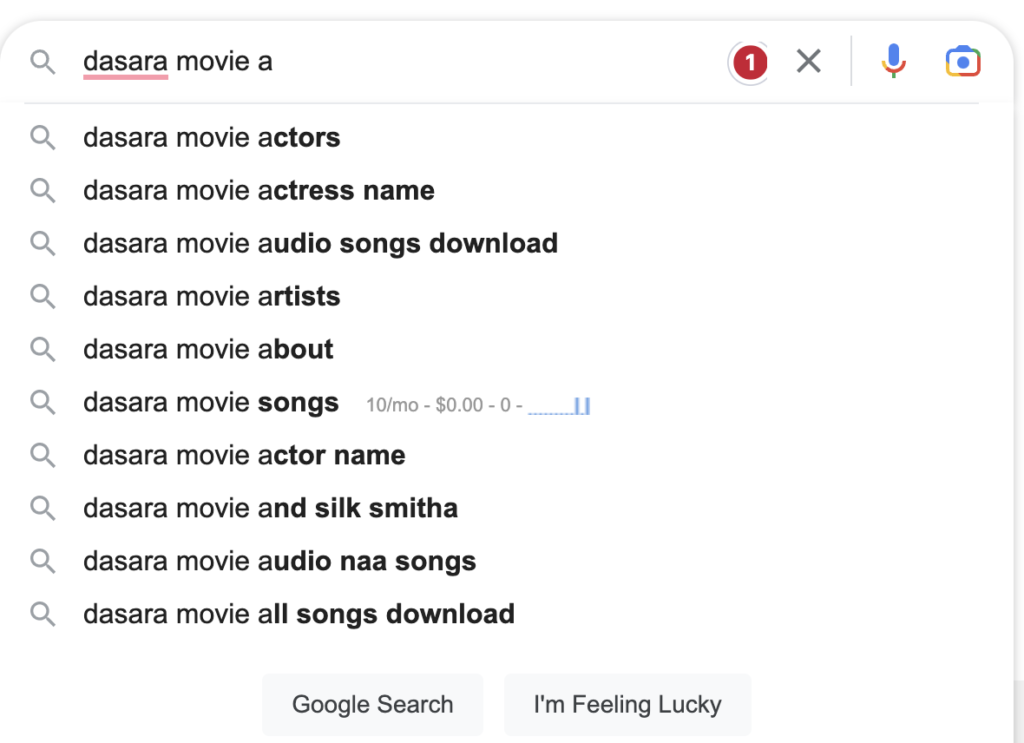 You can repeat the process with all the alphabet to see all the things and entities associated with your search query that people have been searching for in recent times.
If you can combine this with some information from forums in your niche
Google Trends – Know What is Trending In Your Niche
After Google search, it is another source from Alphabet that lets you see what people are searching for in your niche.
All you have to do is type in the search query and sort the related topics section by Rising.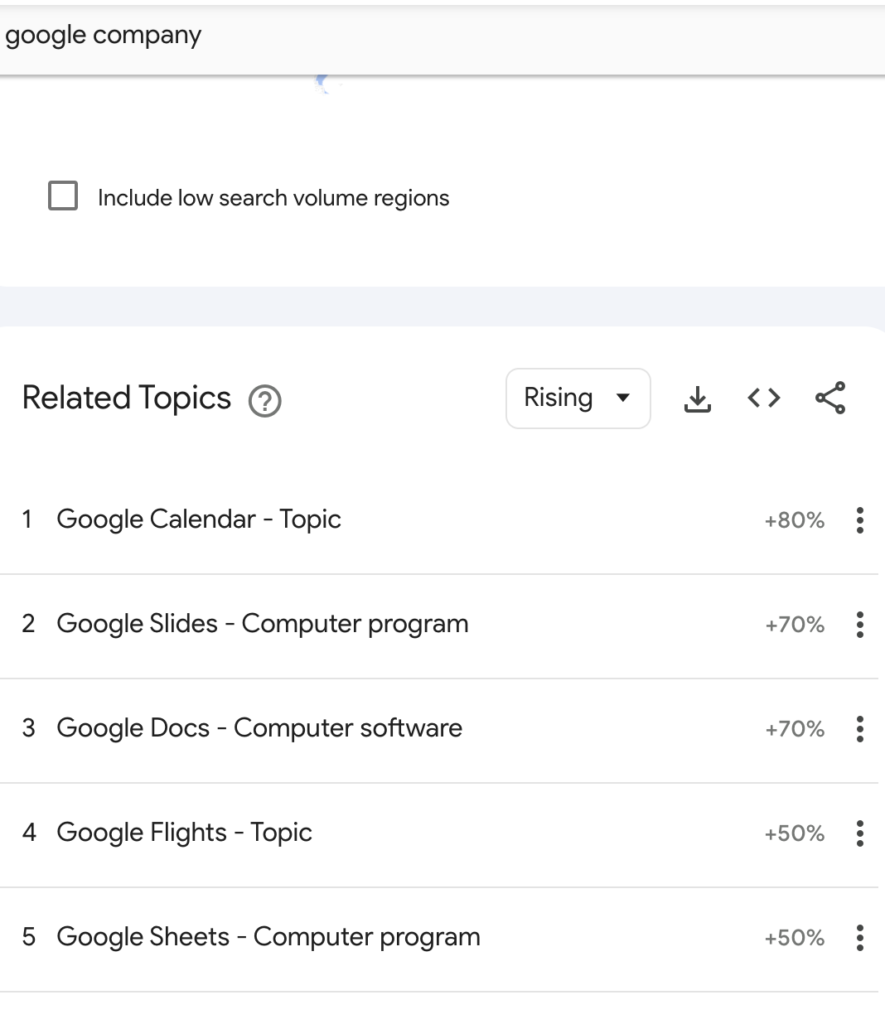 However, Google Trends might not give you granular data. It is mostly broad data that might not be very useful if you are planning to use it for SEO or content marketing.
Exploding Topics – The Easiest Way To Find New Trending Topics
Another resource that can give real-time information on trends that are about to explode is Exploding Topics.
I personally subscribed to this tool and get a weekly list of 9-10 topics.
There is a paid plan for this tool that lets you search for keywords and find the trends. They collect this data by scouting the internet, and social media and by analysing consumer behaviour.
If you are thinking of starting a blog but not sure in what niche, this tool might be a good starting point.
There are other alternatives to exploring topics like Trendly and Trend Hunter.
Social Media Search – Do What Tools Are Doing
Most sites like Exploding Topics, and BuzzSumo scout social media to create trends. But these trends at times have some false positives. The best way to figure out what people are searching for is to check directly on social media sites like Facebook and Instagram.