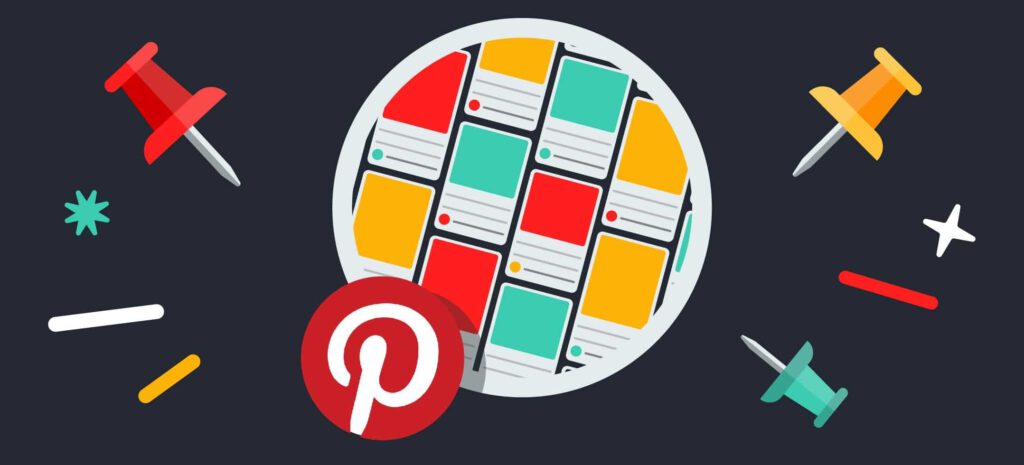 In Pinterest, how many of yours are in 200 billion pins?
Pinterest is far from being just a social network based on images.
Pinterest offers your business a unique opportunity to showcase what your products or services can do. You can use the platform to provide solutions or inspiration to your target audience.
Facebook ads are getting more and more expensive. Customers/Clients are getting smarter and smarter. So, you can also diversify your brand on platforms like Pinterest.
Pinterest marketing has enormous potential for yielding very concrete and very valuable results.
We have rounded up the most important Pinterest statistics with the latest data.
Let's dive right into it!
General statistics
335 million people use Pinterest every month.
The Pinterest platform has registered steady growth in monthly active users. In 2018, there were 265 million active users. The user base of the Pinterest platform grew by 26% from last year. (hootsuite)
In the US, Pinterest is the 5th most popular mobile social networking application.
Pinterest ranks below Facebook, Instagram, Facebook Messenger, and Twitter but lies above Snapchat, Whatsapp, and Reddit. (99firms)
Pinterest had more American users between 2017 and 2018 when compared to Facebook and Twitter combined.
77.4 million people have used Pinterest in the US which is a 7% rise from the previous year which is 2017. By 2022, the expected monthly active users could reach 87.2 million in the US. (emarketer)
With the help of Pinterest, 33% more traffic is driven to shopping sites than Facebook.
The average Pinterest engagement rate is greater than any social platform. Pinterest drives the traffic to the shopping sites which is 33% higher than Facebook, 71% higher than Snapchat, and 200% higher than Twitter. (socialpilot)
Pinterest beats Facebook in the number of users per employee also.
Pinterest's user to employee ratio is around 95000 compared to Facebook with 64000. Pinterest has gained an impressive user base which is consistently growing. (99firms)
85% of the pinners on Pinterest are from mobile.
Pinterest saw a 45% increase in mobile searches in 2017 alone. High mobile usage can help to consult the platform's content when they are out for shopping. (influencermarketinghub)
User statistics
Pinterest is used by 34% of American adults.
Nearly one-third of American users aged 18 to 29 are using Pinterest, or have already used it. (statista)
In 2018, 38.62% of Pinterest users are from the US.
The US holds the title for the highest percentage of Pinterest users. The US is ahead of Brazil(7.6%), India(4.85%), Turkey(3%), and Russia(2.4%) in Pinterest users. (techglads)
The median age of a Pinterest user is 40.
The average age of the users who create the account in Pinterest is 40. But all the accounts are not active though. However, the majority of the active users in Pinterest are below 40. (omnicoreagency)
45% of women online use Pinterest.
Demographics are dominated by female numbers. Women started using social platforms and showing their prominence in using Pinterest. (hootsuite)
Only 17% of online men use Pinterest.
Men are very less in numbers when compared to females on Pinterest. Men numbers have been rising, as 40% of new Pinterest signups are men. (influencermarketinghub)
34% of college graduates use Pinterest.
People who have graduated from college, or holding higher degrees are using Pinterest. 22% of the adults who have a high school diploma are using the social network. (techjury)
35% of adults who earn $75K are Pinterest users.
The adults who earn around $75K per annum are using Pinterest. 32% of the people who earn $30,000 to $50,000 per year are also on Pinterest. People who earn between $50,000 and $75,000 as well as below $30,000, make for 30% of users on Pinterest. (exalteddigital)
Usage statistics
67% of the Pinterest users will refer to Pinterest on their mobile devices when in retail stores.
Many people are turning to Pinterest. They can check their pins while shopping in a retail store, making it essential for retailers to add high quality. (pinterest)
85% of the users on Pinterest use multiple available devices, while 75% use it only on mobile devices.
App pins on Pinterest make the app users find the apps and download them directly and solve the problems. (hostsorter)
People use Pinterest for the buying and planning process two times earlier than other consumers.
People use Pinterest for research and are taking more time to make sure everything goes right on their purchase. (Pinterest)
80% of the pinners prefer mobile apps to the desktop site.
Pinterest traffic is always more from mobile users. A constant theme of "don't neglect mobile" holds true. (techjury)
6% of the pins are happening at 11.00 PM.
Most of the pinnings happen between noon and midnight. 11.00 pm is the most active pinning hour of the day. (hootsuite)
Growth Statistics
In 2020, Pinterest's average revenue per user is $0.77.
Pinterest's average revenue per user was $0.73 in 2019. The demand for advertising has been increasing which drove the higher ARPU year over year. (digitalinformationworld)
Pinterest generated $756 million in the year of 2018 which is a jump of 60% from the previous year.
The average revenue of Pinterest is expected to reach $1.52 billion by the end of 2020. (cnbc)
To date, Pinterest has over 2,200 employees worldwide.
In 2017, Pinterest had over 800 employees, now Pinterest has over 2,200 employees all over the world, including Atlanta, Berlin, Chicago, Detroit, London, Los Angeles, New York, Portland, Paris, Sao Paulo, Seattle, and Tokyo. (pinterest)
Business Statistics
97% of the searches on Pinterest are all unbranded.
77% of pinners are open to discovering new products and ideas. 78% of pinners think content from brands is useful. 83% of pinners have made purchases based on brand content. 98% of pinners have tried the things found on Pinterest. (pinterest)
48% of Pinterest user's top priority is shopping.
Pinterest users apart from shopping they use it for viewing photos (57%). Sharing content, networking, and watching news are lesser priorities. (hootsuite)
85% of the pinners give more importance to visuals when shopping.
61% of consumers say that images lookup improve their in-store experience. 55% of the consumers say that visual search is a key to refine their style, and 49% say that it improves the relation with brands they love. (pinterest)
Advertising Statistics
Pinterest helps 70% of users to discover new products.
According to the official Pinterest marketing statistics, Pinterest users discover new products relevant to them. But, people look for a change in style, scrolling through various brands, buying multiple items after getting more suggestions on their own pinboards. (pinterest)
93% of the pinners use Pinterest to plan a purchase.
Pinterest is the best source of inspiration. It ranges from a scarf to a house. It is one of the best ways to plan the next shopping spree. 52% of Pinterest users have seen something and made a purchase online. (socialmediatoday)
72% of the Pinterest users get inspired to shop while they aren't looking for anything.
Pinterest has the same effects on users who aren't looking to make a purchase as on those who are browsing the boards with a buying intent. (pinterest)
66% of consumers buy something after watching a brand's pins.
An important Pinterest stats show that two-thirds of the Pinterest users see a pin they like from a brand and make a purchase. (hubspot)
In Pinterest, money spent on advertising is $1 and the profit delivered is $2.
Advertising on the Pinterest platform can get a double return on their investment. Pinterest consistently ranked third of all individual marketing channels assessed. (pinterest)
The best day to draw the audience on Pinterest is Saturday and the best times are 2 pm – 4 pm, and 8 pm – 1 am EST.
Most of the users will be online on Saturdays so, it would be the best day to post on Pinterest. Specific hours can attract more traffic on Pinterest. Posts should go up on Saturday at 2 pm and 4 pm, and 8 pm and 1 am EST. (louisem)
100 – 200 Characters length descriptions gain more popularity.
According to the latest Pinterest statistics, Although images draw the attention of users, texts seem to be what gets the Pinterest traction. Posts with short text descriptions tend to do better than images. (hubspot)
Final Thought
Pinterest has steadily grown its user base in the last few years.
Pinterest also offers a number of tools to help businesses engage with their users, making this platform the go-to channel for large and small companies alike.
You can use Pinterest to boost your brand's online social media presence. Use it to showcase your products to the right kind of audience and drive engagement.