We all know how the cloud computing industry is growing. Confidential computing is a cloud computing technology that allows companies to isolate their sensitive data in a Secure Enclave even while data is in processing.
Here are a few stats and trends of the technology. Also included are some facts on which industries are adopting it and catalyzing the growth of this secure technology
Confidential Computing Market Size And Future Trends
As of 2021, confidential computing market is $1.9 -2.0 billion big
For a fairly new tech, these numbers, growing cyber security concerns and immense interest in the topic from companies like Accenture, Intel, Microsoft assures exponential growth of this new field.

It is expected to grow with at least CAGR of 40-45% till 2026
Like I mentioned in the previous stat, it is clear that the division of cloud computing is set to become an industry on its own. As for the Everest group survey, in the best-case scenario, the confidential computing industry is set to grow at an annual compound growth rate of 90-95% through 2026.
By 2026 total market value is expected to reach $52-54 billion
Like I mentioned earlier, the market value of $2 billion in 2021 is set to see exponential growth to reach around $52 billion in the best-case scenario. In numbers, this is 26 times growth in five years.
Source: ConfidentialComputing.io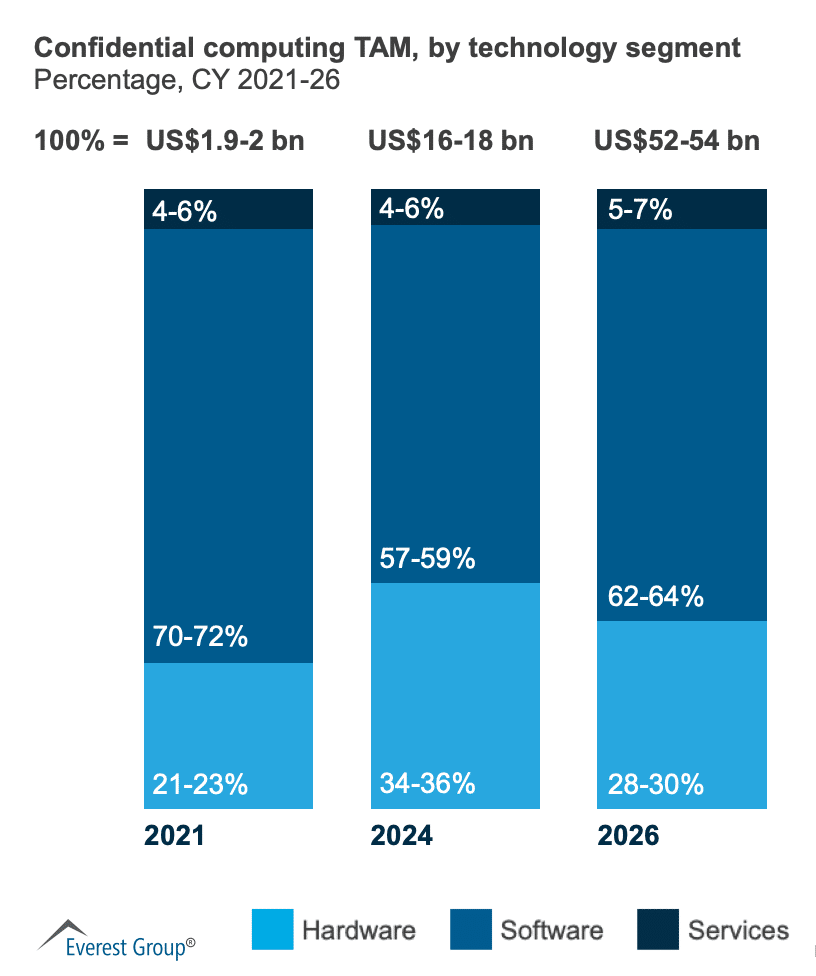 Approximately 70-72% of the total market in 2021 is contributed by software segment of confidential computing.
Although small compared to the software segment, the hardware segment is contributing to the market expansion of the industry. It is expected to grow two times every year from 2021-2026. The hardware segment contribution is expected to grow from 21-23% in 2021 to 28-30% in 2026.
Cloud service providers are biggest contributors in the software segment
83-85% of the software segment is contributed by cloud service providers. 15-17% is contributed by enablement software which is expected to grow as the industry matures.
In the following sections, let's see what segments and industries are driving this growth.
Confidential Computing Adoption Rates
The adoption of the industry is driven by banking, finance, insurance, healthcare, life sciences, public sector and defence
As of 2021, these regulated industries are responsible for the increased demand in this new secure computing department. In numbers, 75% of demand is created by these sectors. By 2026, these same industries are expected to further adopt the technology. Thanks to its benefits.
North America is leading in adopting this secure technology.
Thanks to flexible privacy regulations, approximately 40% of the total market comes from North America. Europe on other hand accounts for 25% of the total market for confidential computing.
Privacy and security are the biggest drivers of adoption
Particularly in the public cloud, privacy and security are the reasons for adopting confidential computing. In numbers, these use cases contribute 30-35% of the total market. Paypal and Adidas are two notable companies that are adopting this technology for improving their enterprises' privacy and security.
Blockchain Industry is contributing 23-25% to the confidential computing market.
In addition to security and privacy, blockchain and multi-party computing are other two technologies that are driving the growth of confidential computing as it can offer improved network data privacy.
3-7% of personal computing devices also contribute to this technology market.
It is clear that this technology is not just for enterprises. Big tech companies like Apple, Android, Samsung are introducing products that can be classified as confidential computing devices.
Source: ConfidentialComputing.io