A logo gives a strong first impression and grabs attention.
Interacting with brands has become common in everyday life, from social media to radio ads and in everyone's inbox.
It is very important to have the right logo design in business. The brand identity of the business typically "resides" in a logo that resonates with consumers the most.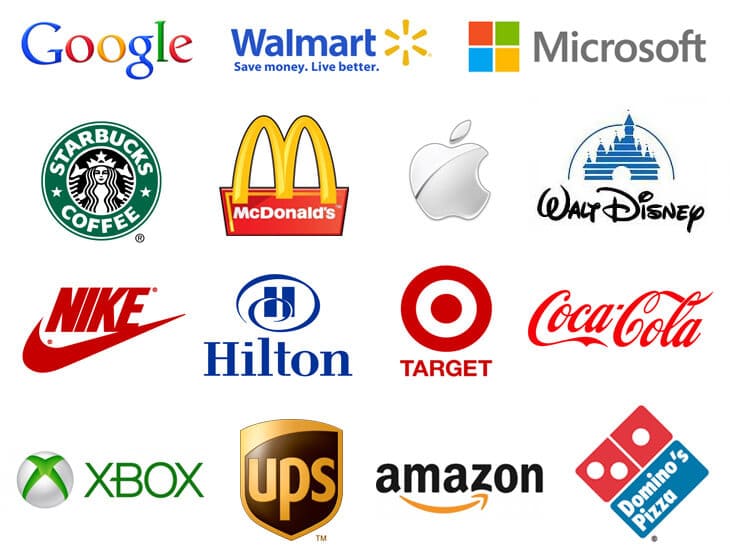 Do you know about logos?
A logo gives a strong first impression and grabs attention.
Interacting with brands has become common in everyday life, from social media to radio ads and in everyone's inbox.
It is very important to have the right logo design in business. The brand identity of the business typically "resides" in a logo that resonates with consumers the most.
A strong brand is required to stand out in 2020 and beyond.
Some critical logo statistics are gathered to offer valuable insights on branding.
Let's dive right in.
General Logo Stats
How important is branding?
What are the most popular logos?
What are the costs of logo designs?
Logo trends
What colors are used in logos mostly?
Color matters!
90% of a person's first impression accounts for color. (researchgate)
Blue is the top logo color among Fortune 500 companies which could be around 40% of the entire list.
Here are the details of the logo breakdown by color.
Blue – 198
Black – 128
Red – 83
Green – 35
Gray – 25
Yellow – 7
Orange – 7
Multicolor – 6
Purple – 6
Brown – 3
Metallic gold – 2
Gold used by two companies – Markel and MGM Resorts International is notably high-end, luxury brands. (hillyfieldproductions)
What gradients are used in logos?
Gradients are on super trend these days. But only 34 logos incorporate gradients.
The five top-ranking companies with gradients in their logos are:
Chevron
Ford Motor Company
General Motors
United Parcel Service
Procter & Gamble
Which font style is used in logos?
Sans Serif is the most popular font style among the logos.
Three-quarters of all Fortune 500 logos use sans serif fonts!
Take a look:
367 logos use sans serif fonts only (73%)
90 logos use serif fonts only (18%)
32 logos use some combination of sans serif and serif fonts (6%)
11 logos use some other font style, such as handwritten or script (2%)
Which capitalization is used in logos?
Some company names are more stylish in their logos than in normal text.
Companies like Mastercard, eBay, and Intel have all chosen lowercase letters for their logos:
Lowercase logos are the least popular text style of all Fortune 500 logos.
Here's the breakdown of capital vs lowercase letters in logos:
All caps – 233 logos (47%)
Title case – 167 logos (33%)
Combination – 62 logos (12%)
All lowercase – 38 logos (7%)
The choice to use lowercase, all-caps, or traditional title case depends on several factors, including brand identity, font choice, and even the length of the company name.
Rebranding and logo redesign
Why do companies rebrand?
Nowadays companies often rebrand as a part of a merger.
A study by Landor Associates found that 74% of S&P 100 companies have rebranded their asset within the first seven years.
Many companies also rebrand to try to turn around a failing business.
Other common reasons for corporate rebranding include:
Change in leadership
Outdated design trends that need to be modernized
A growing portfolio of products and services
Need to accommodate new platforms, such as digital spaces
International expansion
Attempted recovery from a scandal
And famous logo rebrands have included:
Starbucks
Microsoft
Instagram
eBay
(landor)
What are the Best practices of Logo industries
Agencies are still a big player
Many companies still rely on agencies. Brands like Nike, L'Oreal, Coca-Cola, and FedEx turn to agencies for their branding and rebranding. (jpdesigns)
"Huge" design agency, is responsible for branding nearly 20% of the Fortune 100 list.
Impressive, right?
2. Big agencies are too costly for most small businesses
Logo design price ranges from $25,000 to $100,000+, these costs are far greater than what business would be willing to pay.
99designs surveyed 1500 small businesses and found that 14% would spend around $1000 on a new logo. (websiteplanet)
3. In-House design happens too
Google's latest logo in 2015 was designed in-house, with the help of logo designers across the country.
4. Freelancing Platforms Are Growing
Creative agencies are still around to get professional branding, and it is no longer the only way – thanks to the internet.
Online freelancing platforms have become more affordable in getting logo design services. (websiteplanet)
Calculated by the total number of users, the largest online freelancing platforms today are:
Freelancer.com : More than 31 million users with 69,000 logo designers
Upwork: More than 17 million users with 292,000 logo designers
Feverr: More than 7 million users with 3,000 logo designers
5. Crowdsourcing: Not New but Popular
Crowdsourcing is another avenue for logo design today. Crowdsourcing allows you to harness the creativity of multiple designers in one project. The best logo can be chosen from the group of designers. (adamenfroy)
Crowdsourcing is not a new concept, designs have exploded along with freelancing platforms.
In fact, Toyota, the famous vehicle manufacturer crowdsourced its very first logo back in 1936.
6. Vector Graphics Software
Free and paid softwares like Adobe, Sketch, Inkscape, and GIMP are the tools of choice for professional logo designers.
Technically, anyone can give the tools a try without any experience in designing.
Google's first logo was made with a free open-source tool called GIMP by the co-founder Sergey Brin in 1998.
7. DIY Logo Makers Are Getting Better
Softwares to design graphics or logos can be expensive, so online logo makers are designed to be affordable and user-friendly. Anyone can choose a logo template and customize it through an editor.
DIY logo makers have different quality of templates, vary in prices and customization options. Some have AI to generate unique logo designs based on user input.
How to drive the target audience?
Logos aren't about designing and creative agencies, they are all about customers.
Lets dive deeper into the target audience and their perception of branding and logo design.
1. First Impressions Happen Faster Than You Think
First impressions form in the blink of an eye.
Psychologists have demonstrated that it takes just one-tenth of a second to form a first impression of a new person.
A Google study has shown that visitors need just 50 milliseconds – or one-twentieth of a second – to form an opinion about a website.
2. Consistent Branding Matters
60% of the millennials expect a consistent brand experience with a company.
That means logos are now the most important part of brand identity. A poor logo on the website cannot give a consistent experience expected by customers.
3. Color, Color, Color!
One if the fact is that " a signature color increases brand recognition by 80%".
Academic researchers divide brand personality into five dimensions, each represented by certain colors:
Competence: blue, black
Excitement: red, orange, yellow
Ruggedness: green, brown
Sincerity: yellow, pink, white
Sophistication: purple, white
An example of color psychology from two of our Fortune 500 companies. Exciting red is the perfect choice for vibrant fast-food chain Yum China Holdings, whereas soothing blue is more fitting for investment management firm Prudential Financial.
Other color psychology studies have taken these general dimensions even further, adding more detailed descriptors and personality traits to each color.
4. Shape Matters, Too
International researchers has found that customers judge a brand based on the shape of its logo:
An angular logo led viewers to rate a hypothetical pair of shoes as more durable.
A circular logo for the same hypothetical pair of shoes led viewers to rate the product as more comfortable.
The idea of comfort extends far beyond physical hardness or softness, too. Round logos may suggest "softness" in terms of a company's care, warmth, sensitivity, or friendliness.
5. Symmetrical vs. Asymmetrical Logos
Studies have shown that symmetry makes a difference in logos, too.
A study out of Carey Business School have found one significant trend: asymmetrical logos are perceived to be more exciting.
If your brand wants to be seen as serious and formal, then symmetrical may be the way to go – for something more exciting, try tilting your logo's text or shape.
6. How Memorable Are Famous Logos?
One of the most important logos design principles is simplicity. In almost all cases, the simpler the logo design, the more memorable it will be.
7. Consumers' Memory of Color
Many people cannot accurately remember colors. Color identification has been difficult from a variety of similar colors.
In a study, people were able to identify the shown color from selection of similar colors for only 40% of the time.
It clearly says that color do matters but minor variations in color may not be noticeable.
Facts about logos
Saul Bass is the most influential graphic designer of the 20th century, Bass is known for both the quantity and quality of logos he created.
Here are some figures of the most expensive brands:
Symantec – paid $1.28 billion to acquire VeriSign, including the rights to VeriSign's famous checkbox logo. (crn)
British Petroleum (BP) – paid $211 million for rebranding, including a controversial logo redesign by agency Landor Associates (named as a rebrand failure above). (medium)
Accenture – paid $100 million to rebrand from Andersen Consulting to Accenture, including a brand-new logo design. (brandsdesign)
Curious about some of the oldest logos in the world?
Here we go:
1874 – Nestle's Eagle Brand (first registered trademark in Hong Kong)
1875 – Bass Ale (first registered trademark in the UK)
1870 – Averill Chemical Paint Company (first registered trademark in the US)
What are Hidden messages in logos
These logo recognition statistics offer some things you just might not know about your favorite brands:
What is the future of logo design
Now we'll be diving into what's in future for logo design.
1. Technology Will Drive Changes
Every step forward in technology has led to changes in logo design.
For instance, the advent of color TV in the 1960s led news channel CBS to create a brand-new full-color version of its famous eye logo.
Major changes in logo design based on mobile technology are seen since 1965. The US Open logo redesign (2019) toward minimal design and screen-friendly sans serif fonts was a good example of shift.
Snapchat's bolded outline on its "Ghostface Chillah" logo (2019) is another example. Many users have expressed hatred for the new design, but others note that the bolded line is designed to be higher-contrast – a change made based on the limitations of those tiny smartphone app badges.
2. Rise of Animation
A shift toward more interactive logos already seen with the help of animation. Companies like Google, Netflix, and Skype have led the way with creative animated logo design.
Unlike a static logo, why are animated logos trending?
Because they :
Catch and hold the viewers' attention
Can be incorporated into the overall user experience
Position companies as technologically savvy
Animated logos are definitely on the rise, but they're not new, either!
In 1928, MGM Studios pioneered the animated logo with their first real lion mascot, Jackie, roaring at the start of every movie.
3. Importance of Dynamic Logos
A similar concept is the rise of dynamic logos or logo designs that can be easily adapted for different contexts and devices without losing the brand's core identity.
Google used a dynamic logo back in 1998, altering its homepage logo with a stick figure representing the iconic Burning Man festival.
The original Google Doodle that started it all, showing a rough sketch of the famous Burning Man in 1998.
Eliminating text altogether, this Doodle celebrates the 96th birthday of Har Gobind Khorana, a pioneer in DNA research.
Three very recent and well-executed examples of dynamic logos are below:
Ikea – a new white logo (2019) with a transparent background that can be placed over virtually any GIF or still image
Spotify – a global rebrand (2015) that expanded the brand colors from two to 31 and introduced trend-setting duotone effects
City of Melbourne – dynamic letterforms created in different geometric styles and vibrant color palettes