Did you know that 90% of shoppers make judgments about a product based on color alone? No wonder companies spent thousands of dollars on choosing the perfect color, shape, and logo design.
Did you know that 90% of shoppers make judgments about a product based on color alone? No wonder companies spent thousands of dollars on choosing the perfect color, shape, and logo design.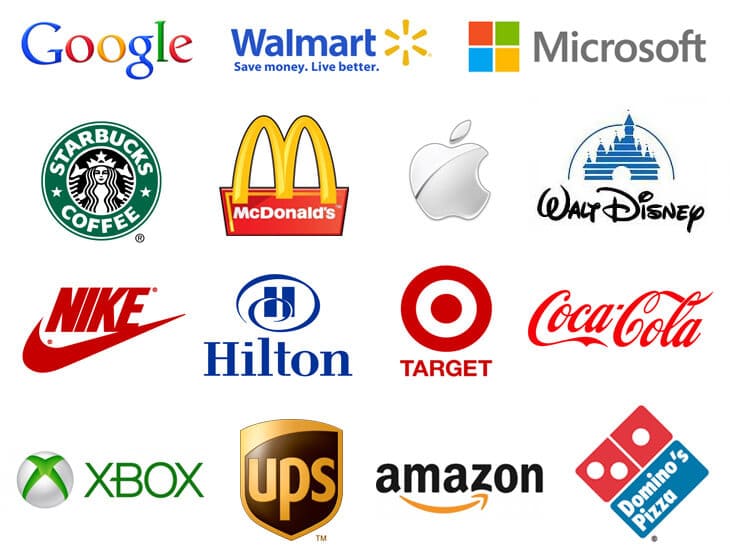 Your logo is the first thing customers see and is crucial in creating the right image for your brand and business. Not only does your logo boost brand awareness and recognition, it also serves to attract new customers and set your business apart from the competition.
If this is not enough to convince you of the importance of logos for your product or service, check out the following facts and stats on branding and logo design.
Hopefully, these statistics will help you create a memorable logo that will resonate with your customers.
Important Of Logo Stats On This Page
42% Americans say, logos tell them about the brand personality
Coca-Cola logo is recognized by 90% of the global population
BBC paid 1.8 million for their logo
Colored logos increases brand recognition
Sans Serif is the most popular font for logos
57% of small businesses are ready to spend $500 on their company logo
First Impressions on a product are formed in 90 seconds
Stella Artois's logo is the oldest logo
General Logo Stats
1. 89% of marketers see brand awareness as their primary business objective.
Brand awareness is the most important business goal for as many as 89% of marketers. Having customers recognize and connect with your brand is the first step towards creating a powerful brand identity and a loyal customer base. After all, loyal customers are worth ten times more than their first purchase, and 59% of shoppers would rather buy new products from a brand they are already familiar with.
Recent research suggests that nearly half (42%) of consumers think that logos successfully convey a brand's personality, with 75% recognizing a brand by its logo. In fact, logos are the most recognizable brand identifier, well ahead of visual style, color, and brand voice.
What's more, half of consumers are more likely to shop from a brand with a recognizable logo, whereas 60% would avoid brands that have odd and unappealing logo designs. (financesonline)
2. 30% of Americans notices logo first when they see a product
More than half are more likely to use a company when they recognize the brand logo. Also, 42% Americans say, logos tell them about the brand personality. This shows how important are logo recognisability and long lasting impression . Maybe this is the reason why most of American company logos are in the top 10 most recognizable logos list.
3. The iconic Coca-Cola logo is recognized by 90% of the global population.
The red and white Coca-Cola logo is undoubtedly one of the most famous, recognizable, and best text logos of all time. Apple, Nike, Mercedes-Benz, and Adidas also rank high on the list of the most popular logos. (creativebloq) (financesonline)
Here are some more facts and stats about the world's most famous logo designs:
Universal Studios, which was founded in 1914, has changed logos 12 times so far. (designhill)
FedEx's logo design has won more than 40 awards. In fact, Rolling Stones magazine ranked it as one of the eight best in the last 35 years. (cnbc)
Playboy earns most of its revenue from logo licensing. In 2017 alone, this amounted to $45 million in revenue for the company.
The famous Shell logo was inspired by the company's initial business-trading oriental shells to the west. (dewebsite)
4. The logo of Symantec Brand & Acquisition costing $1,280,000,000 is the most expensive logo of all time.
Average cost of logo design can range from $300 to $1300. The price varies based on the quality of the logo and the creator you commission for the design.
Most of the most effective logos came almost for free. For instance, Nike bought their swoosh logo from a graphic design student in 1971 for just $35. The old logo of social media giant Twitter cost only $15. (creativemarket) (financesonline)
Google's co-founder Sergey Brin designed the company logo back in 1998 using the free graphics app Gimp. The Coca-Cola logo also did not cost anything. This iconic logo was created in 1886 by Frank Robinson, the company's bookkeeper. (brandcrowd)
Other companies, however, are willing to pay big money to get the right logo design.
The BBC, for instance, paid $1,800,000 for their logo, while the Arnell Group charged Pepsi $1 million for redesigning their logo. (brandcrowd)
The Australia & New Zealand Banking Group paid $15,000,000 for the new logo and the rebranding procedure. Created to announce the merger of two large banks, the simple logotype uses the tried and tested blue and white colors to denote security and safety. (thelogocreative)
Accenture paid $100 million for their new design. The straightforward logotype representing the company's commitment to growth and development may have been criticized in the past for its simplicity. Still, given its performance on the market (it is the world's most valuable IT services brand for the third year in a row) no one can argue its effectiveness. (thelogocreative)
However, an expensive logo is not always the magical solution to issues with a brand's image. Take British Petroleum (BP). They spent a whopping $211 million on their new logo in 2008, which tried to use eco-friendly colors and images to convince customers of the company's green policies. Needless to say, customers were not impressed. On the contrary, they found it cynical that an oil company would try and promote environmentally friendly ideas. The oil spill in the Gulf of Mexico did not help matters either. (thelogocreative)
5. 40% of Fortune 500 companies use blue in their logos.
Color matters! People need 90 seconds to form an impression of a product, and 90 percent of that impression is based on color alone. (researchgate)
Even though a colored logo design accounts for an 80% increase in brand recognition, it's good to keep it simple and not mix in too many shades and hues. (financesonline)
In fact, 95% of the top 100 brands in the world use only one or two colors in their design. Most companies (43%) on the Fortune 500 list are two color logs, 37% are one color logos and just 5% combine four colors in their logotype. (financesonline)
When it comes to a choice of color, most marketers go for blue. Blue represents stability and security, features that most companies want their products to be associated with. So, it's not surprising that blue is used in the logos of almost half of Fortune 500 companies. Facebook, Twitter, Dell, IBM are few famous blue logos examples(venngage)
Red, used by 30% of leading global brands, is another popular color. Employed to encourage appetite and grab attention, red is used by famous brands like Coca-Cola, Ferrari, and YouTube. (venngage)
Here are the details of the logo breakdown by popular color.
Blue – 198
Black – 128
Red – 83
Green – 35
Gray – 25
Yellow – 7
Orange – 7
Multicolor – 6
Purple – 6
Brown – 3
Metallic gold – 2
Be on the lookout for new trends in logo color palettes. Gradients, incorporated in 34 logos of Fortune 500 companies, is one of the most popular modern logo trends. This style has already been successfully used by major brands, including Chevron, Ford Motor Company, General Motors, and UPS. (websiteplanet)
6. Sans Serif is the most popular font style for logos.
As many as three-quarters of all Fortune 500 logos use sans serif fonts. What's more, 90 logos, or 18%, use serif fonts only, whereas 32 logos, or 6%, combine sans serif and serif fonts. Only 2% of logos on the Fortune 500 list use some other font style, such as handwritten or script. (jpgdesigns)
It's not just the font style that you need to pay attention to; it's the capitalization as well.
Most companies on the Fortune 500 list (47%) use all caps. Another 33% go for the classic title case, and 62 logos, or 12%, combine the four.
However, there is no need to always follow statistics. The capitalization and font size in your logo depends on several factors, including brand identity, font choice, and even the length of the company name. For example, only 7%, or 38 logos, of the leading global companies are lowercase logos, Mastercard, eBay, and Intel are few examples. (jpgdesigns)
Some companies avoid text altogether — 9% of global brands only use images in their logos. (financesonline)
7. Rebranding your logo can have a huge impact on your business.
Why do companies rebrand?
A study by Landor Associates shows that 74% of S&P 100 companies have rebranded their asset within the first seven years. (landor)
Nowadays, companies often rebrand as a part of a merger.
Many businesses also rebrand to try to turn around a failing business. Others might want to introduce a new portfolio of products and services, expand the business to new countries or just give their image a boost.
Whatever the reason, rebranding your logo can breathe in some new life to your company, or it can turn out to be a complete disaster.
Let's take a closer look at some failure stories:
In 2010 Gap launched their new logo, a drastic change from the one they had for over 20 years. Customers hated it, and in just six days, the company returned to their old recognizable image. It's reported that this rebranding fiasco cost Gap around $100 million, which just goes to show brands should never underestimate the emotional bond customers have with logos. (klintmarketing)
Usually, rebranding means taking the brand's identity and distilling it down to the bare bones, which is why it was confusing when Mastercard added unnecessary elements to their classic and minimalist logo in 2006. In addition to costing the firm $1.5 million (for the design of the new logo alone), the rebranding also damaged the company's image and reputation.
What can we learn from this failure?
Sometimes some minor tweaks and changes will do; not every rebranding means a major overhaul and drastic changes. (klintmarketing)
Some examples of successfully rebranded logos include:
Instagram which ditched the old Polaroid camera logo for a new, sleek, and fun design.
Starbuck, whose logo changed over time to show the company's diversification into the market.
FedEx that wanted an eye-catching design and a fresh look, changed its logo many times in the toast, resulting in a 20% increase in sales with the latest 1994 design. (inkbotdesign)
How To Get A Good Logo?
1. Agencies are still a major player
Many companies still rely on agencies to get the perfect logo design. Brands like Nike, L'Oreal, Coca-Cola, Unilever, and FedEx still turn to agencies for their branding and rebranding needs. In fact, one design and digital marketing agency, Huge, is responsible for branding nearly 20% of the companies on the Fortune 100 list.
Keep in mind that some of these big agencies come with a hefty price tag, ranging from $25,000 to $100,000+, which might be too rich for small businesses. (jpdesigns)
According to research by Website Planet, 57% of small businesses are willing to spend $500 on their company logo. 18% would go as high as $1,000, and only 14% are ready to dish out more than $1,000. (websiteplanet)
2. In-house design is still a possibility
You don't have to go to professionals and outside agencies to get the ideal logotype. Look at Google — the company's latest logo was designed in-house in 2015 with the help of logo designers across the country. (jpdesigns)
3. Freelancing platforms are a more affordable alternative.
If you don't have an in-house team and don't want to pay a lot of money to professional agencies, there is another alternative.
Thanks to the internet, clients can now turn to online freelancing platforms and get services from some of the best freelancing designers at a much lower cost. Based on the latest stats from Website Planet, there are over 300,000 freelance logo designers available on Upwork, as well as more than 118,000 on Freelancer.com and over 134,000 on Fiverr. All you need to do is take your pick! (financesonline)
4. Give crowdsourcing a try
Allowing clients to harness the creativity of multiple designers in one project, crowdfunding is not a new concept.
Actually, it was used as far back as 1936 when Japanese vehicle manufacturer Toyota crowdsourced their first logo. (jpdesigns)
5. What About DIY logos and vector graphics software?
Today, clients can also choose from free and paid software logo maker tools that will offer some ideas about what the logo will look like and help users create a professional-looking logo for a small amount of money.
Software like Adobe, Sketch, Inkscape, and GIMP is used by professionals and amateurs alike to design and craft top-of-the-range logotypes.
Apart from these, there are free logo maker tools providing a different variety of templates, prices, and customization options. The best part about this is that anyone can do it — these apps and platforms are affordable and user-friendly. Some even incorporate AI tools to create unique logos based on client input. (jpdesigns)
How to Drive Your Target Audience?
The ultimate goal of any business is to engage customers and create a strong and powerful brand. The first step in making that happen is getting a logo that speaks to customers and presents a true image of your brand.
Let's dive deeper into why your target audience is important and how they perceive branding and logo design.
1. It's all about first impressions.
Even though it takes about five to seven interactions before people remember a brand, first impressions of a product or service are actually formed in 90 seconds, while opinions about websites, Google says, are formed in just 50 milliseconds. (financesonline) (cxl)
2. Be consistent.
Did you know that 60% of millennials expect consistent brand experience with a company?
A logo used across various mediums is a guaranteed way to ensure brand consistency. It reinforces your brand identity and your unique selling points in the minds of the customers. By seeing your logo or hearing your brand message multiple times, consumers will know what to expect from your business and start to assign value and trust in your company. (socialmediatoday)
3. Think about color psychology.
Color psychology studies how colors relate to human behavior and affect our daily decisions, from purchasing a product to invoking feelings and sentiments.
Color is one of the most important elements of your logo, so you need to choose accordingly.
Academic researchers divide brand personality into five dimensions, each represented by certain colors:
Competence: blue, black
Excitement: red, orange, yellow
Ruggedness: green, brown
Sincerity: yellow, pink, white
Sophistication: purple, white
Take a look at this example of color psychology from two of the Fortune 500 companies.
Eye-catching and appetite-inducing red is the perfect choice for vibrant fast-food chain Yum China Holdings. In contrast, the soothing blue is more fitting for investment management firm Prudential Financial. (jpdesigns)
4. Shape is also important.
International researchers have found that customers judge a brand based on the shape of its logo too. For example, an angular logo will make customers see a pair of shoes as more durable, while a circular logo would lead them to see the same product as more comfortable.
Round logos also suggest "softness" in terms of the company's friendliness, sensitivity, and warmth.
Symmetry is another deciding factor.
A study by the Carey Business School discovered that asymmetrical logos are perceived as more exciting. Take a look at the Burger King logos. Both use a similar color palette, but the asymmetrical design appears much more vibrant and dramatic.
On the other hand, brands that want to be perceived as serious and formal might do better with a symmetrical logo. (jpdesigns)
Some Interesting Facts About Logos
1.Saul Bass is the most influential graphic designer of the 20th century.
Known for both the quantity and quality of logos he created, his designs include some of the most famous logos of all time, including Bell, Kleenex, and AT&T. (99designs)

2. Stella Artois's logo, created in 1366, is the oldest design still in use today.
2 out of 5 oldest logos in the world according to Time.com are of beverage companies. Stella Artois, the best selling Belgian Beer in the world started in 1336 also has the oldest logo.
Following it are Twinings Tea, Bass Ale, Shell Oil and Levi Strauss & Co. (time)
3. The logo of FedEx has a hidden arrow between the letter E and X to represent precision, speed, and progress.
Logo design doesn't have to be a boring, rule-following procedure. In fact, it leaves a lot of room for creativity and some fun elements. Here are a couple of logo facts of some world-famous brands you might not have known:
Wendy, a company that tries to represent a cozy, home-cooked feeling, has the word "mom" written on Wendy's collar.
The letters BR in the Baskin-Robbins logo double as the number 31, i.e., the number of flavors the company offers.
The yellow arrow under the Amazon logotype is a smile and an indicator that the company sells everything from A to Z.
The space between the K and I in the Hershey's Kisses logo is designed to look like a chocolate kiss.
The electromagnetic waves on top of the name of Cisco Systems actually represent the Golden Gate Bridge — the company's birthplace.
The birthplace of the company is also hidden in the Toblerone logo. The mountain in the logo features a white bear in the middle as a reference to Bern, the City of Bears. (financesonline)
What Is the Future of Logo Design
Now, let's take a look at what the future holds for logo designs.
1. Technology will continue to drive change.
Creating a professional, up-to-date logo means keeping up with each new technological advance that comes our way.
An excellent example of how technology can affect logo design in US news channel CBS. The introduction of color TV in the 60ties led to CBS changing their black and white eye logo to a more colorful version.
Mobile also made an impact on logos, pushing towards minimal, small-screen-friendly design. The US Open logo from 2019 clearly shows a shift towards mobile-oriented logo design.
The introduction of apps led to Snapchat redesigning its famous logo. A simple bolded line provides more impact and much-needed contrast, especially for those tiny app badges.
2. Animation impacts logo design.
Animation has made interactive, engaging logos a real possibility. Today many companies like Google, Netflix, and Skype use animation to catch and hold the customer's attention.
What's more, animated logos can be incorporated into the overall user experience and promote the company's dedication to technology and innovation.
It might surprise you to learn that animated logos are not a new trend. They've been in use ever since 1928, when MGM Studios pioneered the animated logo with their first real lion mascot, Jackie, roaring at the start of each movie. A fun fact: MGM has used six different lions in their movie logos throughout the years.
3. The Rise of Dynamic Logos.
Dynamic logos, or designs that can be easily adapted to different contexts, devices, and ideas, are a similar concept.
Perhaps Google Doodles are the best example of dynamic logos. Introduced in 1998, the first Google Doodle features a rough sketch of the famous Burning Man.
Since then, Google has altered its homepage many times, sometimes keeping the logo and at others eliminating text altogether, such as the one below celebrating the 96th birthday of Har Gobind Khorana, a pioneer in DNA research.
Other examples of dynamic logos include:
Ikea's 2019 white logo on a transparent background. This design is incredibly versatile and can be placed over any GIF or image but still retains the brand's core values and identity.
The logo of the City of Melbourne uses dynamic letterforms to create various geometric styles and color patterns for both a fun and timeless design. (websiteplanet)
Are You Ready to Create Your Logo?
Whether you go for an agency or you do it yourself, think long and hard about the image you want your brand to represent. As the logo statistics above clearly show, brands and logos go together, so you need to ask yourself: What lies at the core of your brand? What values are you trying to project? Who is your target audience?
Once you answer these questions, you can start to create the perfect logo for your company. Remember, keep it simple, both in shape and color palette, and always look for the most affordable alternative that will get you what you need without costing a fortune.