Productivity is the key in today's day and age if you want to finish your task on/before time. A few days ago we listed out some productivity apps for web designers which will help enhance the work-rate.
Coming back to the topic, Google AdSense is something which every blogger or web publisher thrives upon to make a living. Some blog to get an approved AdSense account and others just publish quality content and earn handsomely via contextual ads.
Most bloggers check their AdSense account 2-3 times in a single day. For low bandwidth users this task would be very time consuming at times as the new AdSense interface is AJAX-ified.
AdSense Publisher toolbar
So rather than logging into your AdSense dashboard to check the money earned you have a new alternative in the form of an official Google Chrome extension.
Yes, you read it right. Google has developed a special chrome extension named AdSense Publisher toolbar for checking your AdSense earnings from the Chrome toolbar.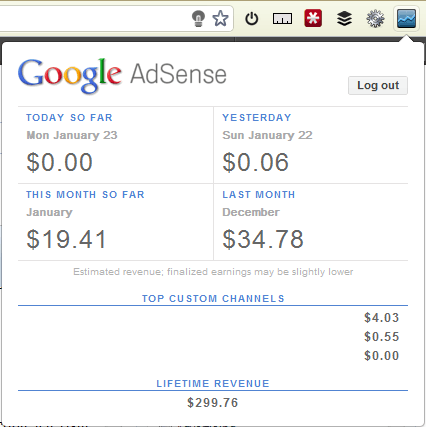 It's just like any other extension which drops-down on a mouse click. On the first install you'll be asked to grant access to your AdSense account and then the extension will start showing the data.
The UI of AdSense publisher toolbar is simple and shows almost everything you need including the earnings for today, yesterday, current month, last month, top performing channels & lifetime earnings.
AdSense Monitor – Firefox Alternative
We've talked a lot about the chrome extension and now it's time to focus on the Firefox alternative i.e. AdSense Monitor. Remember this add-on is not developed by Google but is efficient enough to display what we require on our browser window.
Unlike the Publisher toolbar for Chrome, AdSense Monitor provides some good options to choose from viz – update time, scroll function, left-right click action, etc.
Also like a typical Firefox add-on this one also displays our AdSense earnings right at the bottom of the browser window, vert similar to the Alexa extension.
For IE users it's a sad story (as always) as there is no specific extension for checking your AdSense earnings from within an IE window. So shift to Chrome or Firefox to take the productive advantage.
Did you find this AdSense extension useful by any means ?