A few days ago Google secretly launched their new service – Google Music which is currently in the Invite only Beta Stage. I remember in 2010, Google had launched a Music site specifically for Indian users. It was tagged as a Labs edition (just for testing purposes) due to which; the addition of music to that site was inconsistent.
If you take a look at the site, you'll find that only some hit Bollywood movies feature in it along with some flop one's. Also, the music available there isn't uploaded on Google servers, instead it plays the music or albums which are uploaded on 3rd party sites.
With Google Music Beta, we will note only be able to play the songs available there but also upload our own music files or albums and play it up. Now, let's take a quick look at all the important features of this new Google service.
Features of Google Music Beta :-
Once you've played a Song, it will automatically be available offline as well. (Stored Pre-Buffering)
Create your own Playlists.
Randomize the items in those playlists with Instant Mix.
Better Sync function for managing your music.
Google Music available as an Android App. [LINK]
Steps to Get Google Music Invite for Non-US Users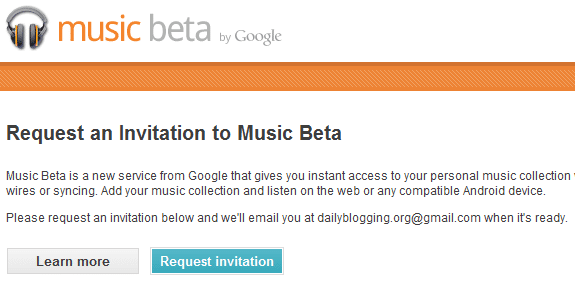 For getting the Google Music Invite outside US, we'll be taking the help of a web proxy. You can also go for an IP Based proxy, but it'll complicate things & moreover it takes some time to find a working US based proxy IP.
Go to a Web based proxy. I prefer HideMyAss.
Enter http://music.google.com in the URL Field.
You will be asked to sign into your Google Account. So, sign-in & you'll be redirected to the Request Invite page.
Just hit the Request Invitation button and your part of the job will be done.
You'll get a mail along with the Invite when it is ready. Remember this is the second service which Google has launched in around 2-3 months time. The first one was the Google +1 Button.
If this tip helped you, then Subscribe to Our RSS Feeds / Daily Updates for more such HowTo posts.
Has anyone got a Google Music Invite ? If yes, then how does the Music player & other functions work ??