Facebook has closed down the location-sharing app Gowalla.
Facebook had acquired Gowalla some 3 months ago to use their service and implement it effectively in the new timeline.
If you head on to Gowalla.com now; you'll see an official thank you message which says, well; what every start-up would after an acquisition. The exact thing is below.

Thank you for going out with Gowalla. It was a pleasure to journey with you around the world. Download your check-ins, photos and lists here soon.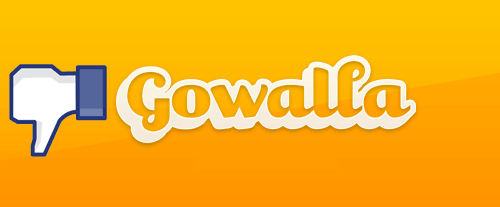 So the signs are all clear that Facebook has gulped Gowalla's 2 million user base and are looking forward to implement the texas-based start-ups work in Facebook timeline.
On Wednesday the 7th of March 2011, a Facebook Engineer stated on it's official blog,
Starting today, location and friends can be added as properties to any photo, link, or status written from an app. This is similar to the functionality a user has when they add a photo or updates their status.
But this may not be the direct reason for checking-out Gowalla. The primary reason would be that it simply couldn't compete with the likes of FourSquare which has a 16 million+ user base.
So if you were a Gowalla user, then quickly log-in and download all your data.