HostGator has made it easier for shared and reseller hosting account owners to change the primary domain name associated with their respective accounts.
A primary domain name is basically the domain name you choose while registering with any hosting plan on HostGator. Either you must've transferred the domain from another domain registrar, registered a new domain on HostGator or simply changed the nameservers (NS) of your domain.
But sometimes the primary domain of your hosting account may not be that important and you would want to change it to another domain name.
Previously, I think we needed to contact HostGator via email to change the primary domain. From now on you don't need to do that as well.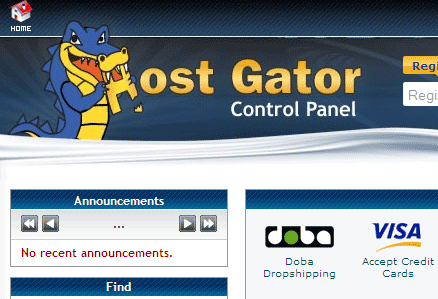 So lets take a look at some simple steps by which you can easily change the primary domain associated with your HostGator account.
Change Primary Domain name on HostGator Account
Log in to your HostGator account using the cPanel login details.
Go to Backups > Backup/Download Full Account Backup. Click and generate a full backup including the home directory, sub-domains, SQL database backup, etc. (just to be on the safer side and avoid data loss). HostGator does offer full restore in case of data loss, but still.
Now open the File Manager in cPanel and create a new folder named after the old domain (lets consider, olddomainname.com). Move the root files (i.e. files belonging to olddomainname.com only, not the other sub-domain or addon domain folders) from /public_html to /public_html/olddomainname.com.
See now we have two situations, first : assigning a addon domain as a primary domain or adding a new domain to the account as an addon domain and making that as the primary domain.
If you had previously added a domain as an addon domain (lets consider, newdomainname.com) then you just need to move the files from /public_html/newdomainname.com folder to /public_html (i.e. the root directory of the HostGator account).
In case you just bought a new domain name or transferred your blog and want to use that as the primary domain in HostGator, then you've to just upload the files directly in /public_html directory.
Log in to HostGator Billing tool or client area. Navigate to Hosting Packages  > View Hosting Packages. Click on the package > Change My Domain.
Finally re-add the olddomainname.com as an addon domain to avoid downtime.
Dedicated hosting account holders still have to contact HostGator personally via email or live chat option to change the primary domain name associated with their accounts. The above mentioned steps are only for Shared and Reseller account holders.
Ensure you keep calm while changing domains, a single mistake can bring multiple sites on the HostGator account down.
Hope you liked the tutorial. Do other hosting providers allow such a primary domain change option ?