About 6 years ago I had opened an account on Yahoo! Mail. At that time Yahoo! was clearly ahead of everyone including MSN or Hotmail in the Email line. Two years later Google launched it's own mail service i.e. Gmail. But Google did a smart thing to create a hype around Gmail. Gmail was open only to Internet users who had an Invitation.
During that period, Yahoo! decided to completely redesign & partly revamp Yahoo! Mail, which left many of it's users including me pretty unhappy. That added up to Gmail's advantage and gradually it grew bigger and bigger.
As we all know, today Gmail is the leader of the Email Service. Well when we see from a neutral point of view, it's unfair to blame Yahoo! Mail for not catching up with Gmail. It's obviously very hard to catch up with it as they release an update every week or two.
Last week, they released the Click to Call Feature to simplify the task of calling from inside your Inbox.
At the beginning of this year, Yahoo again underwent a revamp (Read about it here – Yahoo Mail Beta Interface). It did impress me with it's social features & in built Yahoo Messenger. But again it was a real quite update. There was hardly any hype around it.
Are you still an unhappy Yahoo! Mail user ? Are you reluctant to move to Gmail; just because of the fear of loosing all your Emails & Contacts ? If yes, then Gmail Switch is the perfect solution for your problem.
Importing Emails and Contacts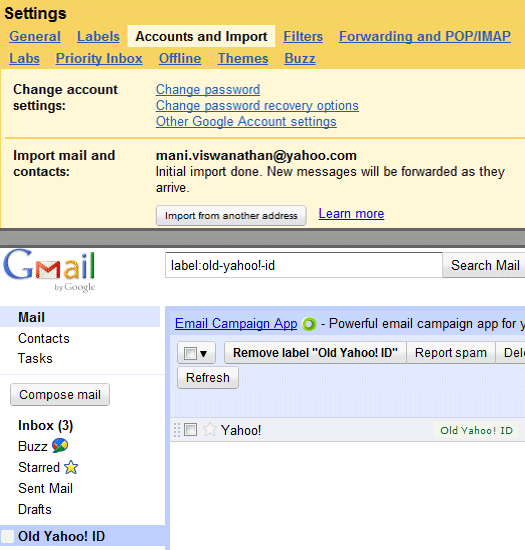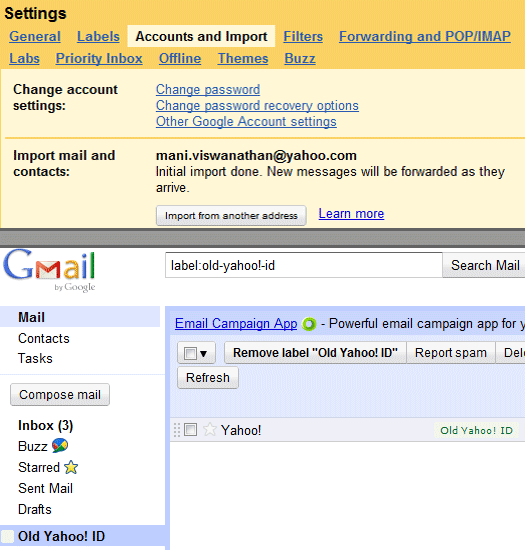 Click on the Settings dropdown (Icon) in Gmail.
Select Mail Settings.
Navigate to the 'Accounts and Imports' tab.
Under the Import Mails and Contacts section, Click on the 'Import from another address' button.
A pop-up window will open. Enter your Yahoo! Mail ID here & click continue.
You'll now be prompted to enter your password. Fill it properly as it will be used to Import stuff from your Yahoo! account to Gmail.
Choose what all things you need to import from the list. Also assign a special label for your imported mails. Eg:- Old Yahoo! ID
That's it! You're done with the set-up. It'll take some hours for the import to be completed specially if you've thousands of mails & contacts on your Yahoo! Mail account.
Send Email with your Yahoo! ID in the 'From' field
Gmail doesn't let allow you to import emails and contacts. It also allows us to use our Yahoo! ID in the from field. That's why it's a Switch to Gmail and not just an import of mails and contacts. Just follow the below mentioned steps to configure the settings. The first three steps remain same as the one's mentioned in the 'Importing Emails and Contacts' paragraph.



In the Accounts and Imports tab you'll find the Send Mail as section.
Since you've already imported or set it up for importing, the Yahoo! ID will also be displayed along side your Gmail address (default).
Just hit the make default link besides your Yahoo! ID.
Make sure that you check 'Reply from the same address the message was sent to'.
I hope this tutorial helps you in Switching from Yahoo! Mail to Gmail.
Have you tried Gmail Switch as of yet ?