In case you remember, few months ago Firefox had stepped into the Android market with Firefox 4 Beta for Mobile. In 2010 Mozilla has released about 7 updates for it's PC/Desktop version of Firefox 4 which is presently in the BETA stage. Yesterday, Mozilla released another update which is the Firefox 4 Beta 8 version. They have officially set the release date of Firefox 4 in the start of 2011. So, this is the final update for Firefox 4 Beta this year.
[ad#adsense-incontent]
Many might Google for the answer to this very important question : Whether to update to Firefox 4 Beta 8 from Firefox 4 Beta 7 or not ? Well if you ask me, the answer would be a certain Yes. I love BETA testing, so I updated to beta 8 just before I started to write this post. Believe me, it's really good. You'll experience cool features which will make your life & work easier.
Mozilla, in it's blog has mentioned the huge no. of bugs that has been fixed in Beta 8 as compared to it's predecessor. The no. is as high as 1.5K+ bug fixes. So technically it's very important to update to beta 8. Now lets take a quick look at a a couple of promising features added to this latest release of Firefox 4 Beta.
Features of Firefox 4 Beta 8
---
It's just another BETA release with large no. of Bug Fixes as mentioned earlier. A lot more testing has been done by the developmental team of Firefox behind this release. These are just minor updates. But below are the major changes brought onto  Beta 8.
#1 A Better Sync System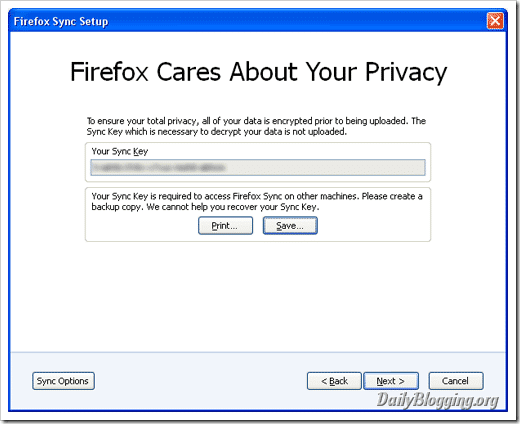 You'll notice that the Firefox Sync system has undergone a big change. It functions in a better way with a sleeker UI. After Entering your Email & Passwords in the Sync Data manager. You get a Sync key to ensure better privacy.
#2 Automatic & Quieter Add-On Updates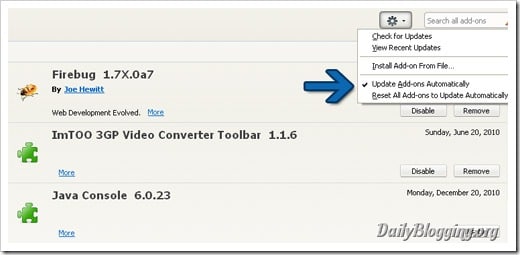 Finally the Automatic Updates on Add-Ons have been enabled. Now, you don't need to wait for the add-ons, to update when you start Firefox. It will update the add-ons automatically & Quietly. You still have the option to choose manual updates though.
If you haven't tried Firefox 4 Beta, then Download Firefox 4 Beta 8.
If you like our posts, then you can Subscribe to Our RSS Feeds / Daily Updates.
So did you Update to Firefox 4 Beta 8 ??