This is a Guest Post by Ellagreen, who is working on a tool called TopSpeedScan. If you wish to write a post for us then read the Guidelines at the "Become A DailyBlogger" page and Submit your post for Review.
Fixing a slow computer does not require you to take to computer repair shop, rather you can fix your slow computer at home yourself like I fix my slow computer myself. If your computer is giving less performance than it is supposed to give, then it is likely because of poor windows and software and not because of hardware. Slow computers really annoy and irritate us and badly affect our work output and this is the reasons why so many people are searching online for help but they are not entertained because they find most of the guides and software ask for money.
To fix a slow computer, you have to identify the key areas that are becoming cause of trouble. These areas are commonly windows registry, hard disk and virus infection. You have to make sure that these three areas are working fine and nothing is wrong with them. Hard disk issues are most common and they significantly reduce the speed of a computer.
You need to work on the following areas to increase pc speed.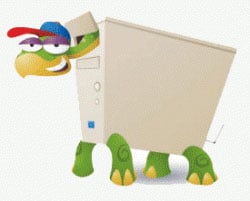 Hard Disk
Hard disk problems cause poor computer performance because they make file accessing slow and sometimes impossible and this leads to system freezing and crashing. You should defragment your hard disk if there are a lot of files on the hard disk and you are facing system crashing.
Uninstall useless Programs
Don't keep or install unwanted and unnecessary programs that you no longer want. These programs consume a lot of RAM and hard disk space. Never overload your PC with loads of programs. This is an important tip to Improve PC Performance.
Cleanup Registry
Clean the windows registry with any good utility software and don't change the registry entries yourself as it corrupts the windows registry. Use specific tools like Registry Cleaner for cleaning up your registry. Make sure that you take a backup i.e. export your registry before you allow a Software to Optimize it.
Keep a Good and Updated Anti-Virus
Viruses stop the windows processes that are essential for smooth desktop running and windows operation. Keep an updated antivirus installed and put your computer on scan every now and then. Also remember to use Anti-Viruses which consume minimal resources. I recommend AVG Free version for optimal performance. In the category of Paid AV's you can go for BitDefender or Kaspersky.
If these tips helped you in fixing your Slow Computer, then Subscribe to Our RSS Feeds / Daily Updates.
Do you have a fifth tip/tweak to fix a slow Computer ?