If your blog is Powered by WordPress like DailyBlogging is, you will find the yellow bar in your Dashboard saying 'Update to WordPress 3.1'. WordPress 3.1 comes with some awesome features, it's main focus being the design.
A Couple of days ago we posted about the importance of reducing the plugins in a Thesis tutorial post – Adding Related posts with Thumbnails without a Plugin.
Once you upgrade to WordPress 3.1 you'll certainly Deactivate/Delete a couple of plugins. The reason being the addition of some important features. Lets take a look at the core features which makes WordPress stronger than every before.
Admin Bar for Quick Accessibility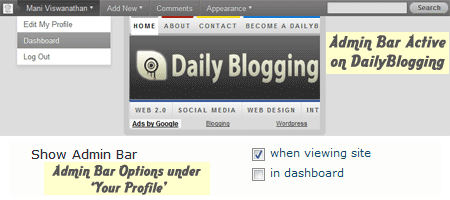 WordPress has gone the blogger.com way by adding the Admin Bar feature in WordPress 3.1. The good thing is that, it can be turned off. You also have a choice to select where you want to Show the Admin Bar. Either when 'Viewing your Site' or 'In the Dashboard Area'.
An Elegant Blue Admin Colour Scheme
We always had the choice to select the admin colour scheme we want. But I've seen many bloggers use the default colour scheme (i.e. grey). With WordPress 3.1, I feel that many would opt to the Blue colour scheme. Personally even I have changed to the blue colour scheme as soon as I read about the update. It has a light blue shade pretty much similar to what the chrome's title bar/tab looks like when not active.
Interlinking using the URL Button

Now the URL button looks a lot different as it comes with an Interlinking option too. It provides an input box for the purpose of searching (It uses Ajax) the posts. As I said above, with this option coming in you can afford to remove the Interlinking plugins.
Post Formats
This is mainly introduced in WordPress 3.1 with a view of helping the developers. Post Formats can be used to present/style each post or a group of posts in a different way. But if you have a slight knowledge of php, HTML & CSS then you can easily activate Posts Formats by adding the below code in your themes functions.php file or custom_functions.php in case you use Thesis Theme.
add_theme_support('post-formats');
The above is a basic code to add post formats support for your theme. You can add an array to define a specific post format.
I have just spotted out the Highlights of WordPress 3.1. Also I have intentionally left out one of the Highlights i.e. the 'Network Admin' update. That's simply because I haven't tested it out.  Read the entire list of changes on WordPress Codex.
If this article was helpful to you, then you can Subscribe to Our RSS Feeds / Daily Updates to stay tuned with our WordPress tutorials. Mean while check out the Top 10 WordPress plugins I use on DailyBlogging.
Have you Updated your Blog to WordPress 3.1 ?