So I believe that starting with a top 10 post is always good, since many people remain confused of which all plugins they should use on their WordPress blog.
It mostly remains common as we all get the top 10 list from various sites, but as time progresses the list keeps on updating, some plugins of the same functionality gets replaced by its alternative which has been enhanced with many features overtime & people often tend to prefer that.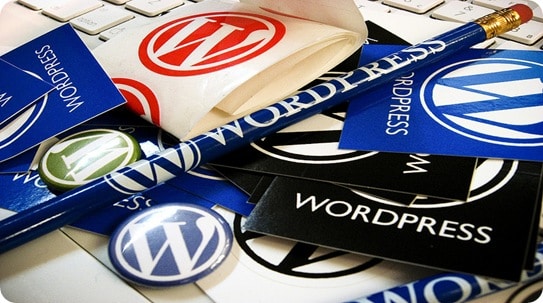 10 plugins are usually not enough for a blogger who blogs daily & customizes it occasionally. Since I've hard-coded DailyBlogging's theme from scratch I use only 15 plugins on the blog. This helps big time to reduce the database size and server load.
So here is a list of the top 10 plugins which powers DailyBlogging.
Expected All in one SEO Pack ? Well sorry then. AIOSP was the best WordPress plugin some years ago. After Yoast added a truck-load of features to his plugin: WordPress SEO; it has become a hot favourite.
WordPress SEO by Yoast comes with the basic SEO options which you would expect from a SEO plugin along with additional options like setting up breadcrumbs, generating xml sitemaps of the blog, Facebook opengraph protocol, Interlinking and RSS footer (for adding credit links).
As the editor-in-chief of a blog it's your primary responsibility to check the grammar used in the blog posts. Be it on the posts you write personally or the one's written by the guest authors.
After the deadline plugin surely saves time while reviewing posts. Unlike the default WordPress spell checker it suggests you to omit certain complex phrases and also displays alternatives.
Previously I was using Contact Form 7 as the main contact form plugin. After some research I found Fast and secure contact form to be more compact and lightweight incomparison to Contact Form 7.
Fast and secure contact form allows you to create multiple forms on your blog. Almost every field of the form can be modified/edited including it's style, placement, gaps between fields, custom text, etc.
Some highlights of this plugin are Captcha integration (or Akismet), Meeting scheduler, custom styles, redirect & backup options.
Akismet does a decent job in preventing spam comments  on the blog but you do need an extra spam protection plugin to ensure sub-zero spam. Previously I used to use conditional captcha along with Akismet, but recently some visitors complained of their comments being unnecessarily held up.
It is important to keep your blog's database clean and optimize it from time to time. This plugin, WP-Optimize does exactly that. You just need to visit the plugin page in your blog's dashboard and run the optimizations. WP-Optimize allows you to choose-and-pick from the below options.
I would recommend you to tick each of these options every time you optimize your blog (unless comments remain unapproved or marked as spam).
Remove all post revisions.
Remove all auto draft posts.
Clean marked Spam comments.
Clean Unapproved comments.
Optimize database tables.
Broken links are as horrendous as downtime for a blog. The probability of a visitor returning back to your blog decreases exponentially as soon as the searcher stumbles upon a broken blog post link.
The latest version of WordPress (even versions above WP 3.0) automatically redirects to the new alias when a taxonomy or post is renamed, but you do need this plugin to 301 redirect (i.e. to set up a permanent redirect) a broken link to the desired page.
Meta keywords mean nothing to mainstream SEO these days as the whole focus is on title & description meta tags. But since WordPress uses the tag taxonomy to categorize posts we need to input some post keywords so that the links are easily accessible using tag clouds or keywords.
Post keywords play a major role in determining related posts (if the categorization of the related posts loop is based on keywords).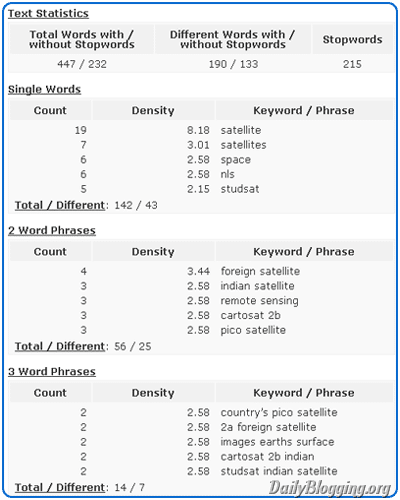 WP PHP Widget is a must-have plugin if you like to play around with the theme, especially the widget section. As the name suggests WP PHP widget allows you to insert PHP codes in the widgets.
It's nothing short of a nightmare for the blog owner when his/her blog gets hacked. So if you are starting a new blog the first step is to secure your WordPress blog fully so that you don't face any problems in the future.
WP Security Scan plugin basically scans your blog to check if some important security mesaures are in place or not. The options are very simple to act upon, so ensure all the results are green in the end.
It's been more than a year since I replaced WP Super Cache with W3 Total Cache. W3 Total Cache offers various options like Browser Cache, Page Cache, Object & Database Cache, CDN, etc. Also the CDN can be hosted on the blog's sub-domain, which is definitely a plus.
So I prefer W3 Total Cache and it has worked very well for many blogs. Now as Google has included the Page load factor while determining SEO of a site, W3 Total Cache is a plugin which every blogger must install right upfront.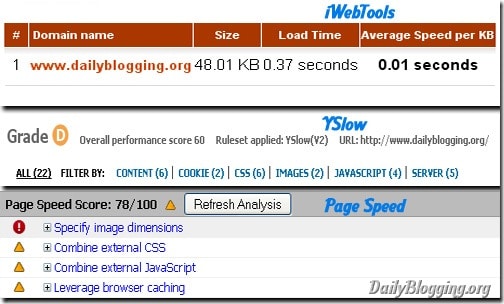 The Rest..
As I said in the beginning of the post, DailyBlogging uses 15 plugins. I have already listed out the 10 important one's in accordance with the title of this post. The rest include,
Akismet. (must-have)
FD Feedburner Plugin.
Full Comments on Dashboard.
ReplyMe.
Subscribe to Comments. (must-have)
Note:- The original list of plugins have been updated as of 5th August, 2012.
I would love to know the top 10 WordPress plugins you people use on your blog, so kindly enlist them in the comments section.