Time management is essential to all especially when you are handling multiple tasks and need to keep track of time as well as important schedules that require your immediate attention. Also as we all know that if there a time well managed means profitable business returns and work well done.
Here are a few of the advantages of time tracking that not only helps you in managing your time but schedules as well, this include:
Time tracking is all about creating a consistent method for tracking the time spent by you as well as your employees and team on a specific task.
It gives you clarity on the time consumed by a certain task so you can accurately make your project estimates.
This is the best manner of creating a documented accounting of your timelines and thus improving your personal productivity.
Now if only we know that efficient Time Tracking Software is available that enables in better time management and helps you with concentrating upon important tasks.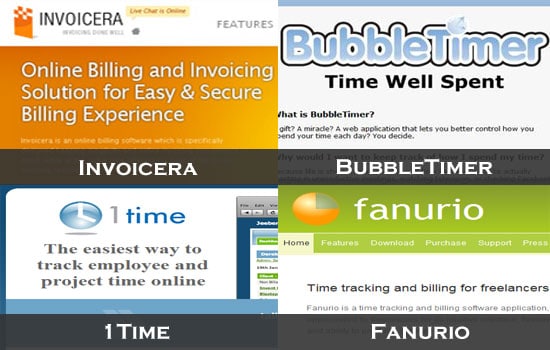 Invoicera is an online billing software which is equipped with an incredible time tracking feature that is easy to make use of. It includes multiple languages, currency support and can customize multiple invoices.
It allows you to keep track of the project progress and keep a track of time spent on specific project with innovative solutions. It can also track your expenses. This software can be very useful for freelancers, small businesses and other professionals.
This is another time tracking and billing application that lets you track time, set reminders, generate reports, create invoices and manage finances. It's an installed app for most operating systems including Windows, Mac OS X, Linux and Unix.
BubbleTimer is a simple web app that lets you control your daily routine time. It comes with a feature of recording your activities within the time frame of 15-minute and then increments; this gives you a clear understanding of exactly where your time is being spent, and manages your time when you are on the go via the iPhone app.
This tool has the ability to manage expenses, create invoices, develop estimates, and make online payments. You can enter your time from your desktop, the Web or your iPhone.
Chrometa is a dynamic application for your personal time tracking. It runs in the background of your computer and keeps a track of all of your activities so you can pull reports and see where your time is spent.
It can also be utilized to track time on projects, categorize time and improve productivity.
ClickTime is yet another online timesheet system that not only helps you track time but also manages billing and payroll. It comes lased with features such as, secure servers, a central dashboard display and comprehensive reporting.
1time is a web-based time, it is an expense tracking application for keeping track  of the real cost of a project for cost analysis and billing.
You can even utilize it for time tracking your team or employees, set up individual logins for your employees and team members so you no longer have to micromanage recording timesheets.
Utilizing any of the above mentioned apps/software you can easily manage your time well and achieve your desired goals successfully within the given timelines.
So have you tried any one of the above mentioned apps or do you use another efficient alternative ?