Twitter has followed the trend set by Google+ & Facebook by adding header image officially on Twitter.com as well as displaying them on it's official apps – iPad, iPhone & Android platforms.
The update was rolled out today by Twitter on the web version. Although there isn't anything 'so' special about this update. It basically allows you to upload header image on Twitter Web and adds another tab in the navigation bar named 'Me', which apparently links to your Twitter profile.
However like Facebook & Google+ you need an image with a minimum resolution or dimension of 1252 x 626 pixels (px). Also your new Twitter header image should be less than 5 mb, in size.
Twitter has also repositioned the main box (which contained the Twitter handle, bio, links, follow/unfollow and other elements). Now the header image acts as a background image above which your profile picture (or DP, as commonly known on Twitter), bio, etc are center-aligned.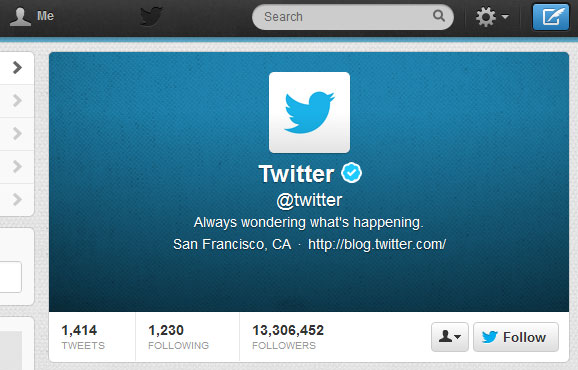 Above is a screen shot of the new profile page which also sports the header image.
How to upload a Header Image to your Twitter Profile
It is very easy to assign a header image for your Twitter profile. So we will quickly take a look at the steps to do the same.
Log in to Twitter. In the main navigation bar click the gear icon (settings). In the dropdown menu select Settings.
Now click on the Design tab from the left hand pane of options.

Upload Header Image for your Twitter Profile Page


Under the 'Customize your own' section click the Change Header button and upload your header image. Remember the minimum dimension should be 1252 x 626 px and it's size should be under 5 mb. Now you should be able to see the new header image in the 'Me' tab i.e. the new profile page.
App Updates for iPad, iPhone & Android
I'm not doing a complete review or analysis of the changes brought in the official Twitter apps of each of these three platforms – iPad, iPhone and Android.
So I will just list out some of the key changes made in these official Twitter apps.
New profile pages with header image and improved positioning (as explained in the above paragraph, center-aligned).
Photo Streams are navigable to left and right by the swipe feature. You just need to swipe either left or right to view different images in a photo stream. This is a notable feature, so good of Twitter.
Also, the pinch-to-zoom feature has been introduced in the photo streams. Pinch-to-zoom will make it easier for device owners to zoom in to any photo available on the stream or Twitter timeline.
Twitter for iPad has a similar interface as that of the Twitter web. Instead of the horizontal navigation bar, it has a vertical one with identical features & UI.
 So do you like the new profile page with header image on Twitter ?