We have made a lot of progress in the field of Technology & with this we do experience certain drawbacks. The main drawback includes a Full proof backup solution. Yes, there are many online backup solutions.
Most of them are paid. Even if they are free they offer a lot less space than we require. Dropbox is one of them providing only 2 GB of online space for free users.
Though the only advantage in Dropbox is that, it allows free users to increase space up to a certain limit by completing certain tasks.



Lets now see the 3 Simple ways with which you can increase your Dropbox storage space in order to store more important files online securely and stay tension free.
1. 
Complete the '
Getting Started
' list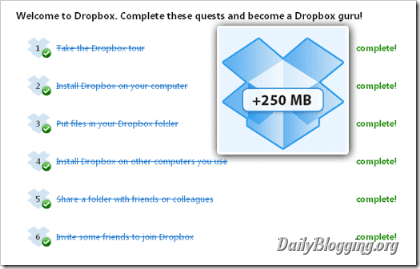 It sounds odd that a website offers something free for just reading, how the website works. But Dropbox does offer 250 MB of space for completing each point of the Getting Started List.
There are about 7 items in the list. Complete them one by one & your storage space will increase to 250*7 = 1750 MB (1.75 GB)
2.
Refer your Friends
[Image Credit]
We all build a lot of Contacts in GMail, Yahoo!, Hotmail, etc. Those contacts will come handy in increasing your Dropbox Storage Space. For each referral Dropbox adds up 250 MB of free space.
So if you manage to get at least 10-15 Referrals; it will add up to 250*10 = 2500 MB (2.5 GB). It doesn't stop at 2.5 GB. In case you get more referrals you're able to extend the space up to a limit of 8 GB.
3.
Share Dropbox link on your
Social Media
Profiles

Many of us around here use Twitter & certainly Facebook in order to network with their friends. Some use Social Media for promoting their blogs, products, etc.
Now, your Social profiles can help you Increase your Dropbox space too. It's simple, you need to follow Dropbox on their Twitter handle (@dropbox). Tweet & Share 'What you Like about Dropbox' on your Social profiles.
As seen in the Getting Started list, here too we have a list of tasks to perform. For each task you complete, they provide you with 120 MB of storage space. Perform all the 6 tasks present in the list & you will get around 720 MB of free storage space. So goto Dropbox Free page & complete the tasks.
With all the three steps combined you will be getting around 5 GB of Storage space. That's more than the double of what Dropbox offers to free users.
How much free space have you managed to get on Dropbox ? Do you find Mediafire & Drop.io much better in comparison with Dropbox ??