Social networking sites have become a very popular media marketing tool. Sites such as Twitter, Facebook and LinkedIn are used by organizations to create and maintain a legitimate business identity on the World Wide Web.
As the internet caters to a large and diverse audience, it is the perfect forum for businesses to market themselves. But, like all forums of public interaction, certain rules of etiquette must be followed when using these social media services.
Also read effective ways to succeed in social media marketing before continuing further. This post focuses more on the etiquette & rules part unlike that one.
The following is a discussion of a few of them.
Provide complete and correct information
When you start using social networks, the basic etiquette rule is to provide complete and accurate information when you announce your presence.
As the internet is used by people all over the globe, certain sites will have privacy protection on their sites and forums. If you know the proprietor, proper information will let them know that it is not a stranger but an acquaintance that requires access to their website or forum.
Providing accurate and relevant information will also help visitors to recognize your organization's website.
Promote other interests
The main benefit of using these social media services is to create a favorable impression of your organization on the internet. Constantly providing information about your company and its products and services will irritate the other internet users.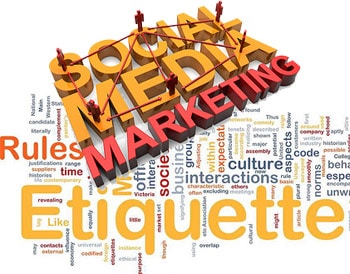 Connect and interact with other people and websites and promote their interests as well. In doing so, your online presence will be seen in a positive light which will attract more visitors to your website or page.
Refrain from posting derogatory remarks
As the internet offers an anonymous attendance, people often write derogatory remarks as they are comfortable in the knowledge that they cannot be recognized.
This will not only prove that you are uncouth, but will also create an unfavorable image about you and your company. Repeated offenses could also get you banned from certain networking sites.
Avoid celebrity attachments
Although mentioning celebrity names can help you attract attention to your webpage, fixating on their lives is considered as a shameful marketing ploy. Regular updates concerning the lives of celebrities only let people know that there is nothing worthwhile happening in your organization.
Consider the audience
Always remember that business networking on social media websites is a dialogue. Take special steps to ensure that you are utilizing these social media services to build a positive connection with the public who could become potential customers.
Always be courteous in all your interactions as this will help in attracting people's attention to you and subsequently, your website. At times, there might also be some users who will post inflammatory statements about you or the company.
Do not get provoked and try to maintain a gracious demeanor in all your interactions.
While posting content on networking sites, remember to include the link to your official website. Proof-read the content to make sure that there are no grammatical or spelling mistakes.
Most importantly, never present inaccurate information or make false claims. These actions could have serious legal repercussions.
By following these basic rules of etiquette, you can ensure that you receive the maximum benefits from social media services for marketing your products & services.
So do you agree with the social media marketing etiquette listed in this post ?