As we all know that WordPress is the most popular online tool which is used for blogging today. But just installing the WordPress software won't help you much in blogging effectively & efficiently. For that you need the help of plugins which will make our lives much easier. In case you are a new blogger looking for a few set of top plugins to use on your blog, then you can take a look at the 'top 10 WordPress plugins' which I use on DailyBlogging. I haven't mentioned Akismet in that list, because its quite popular & everybody uses it.



Yesterday, I saw an update available for Akismet. Updated it & saw that it has introduced a new feature called Comment History. Plugins like Akismet makes an update available to its users only when there is a major change in the functionality. In this case it's the Comment History feature which is added to it. Also it's an Automattic product, which is the same company that has developed WordPress.
Akismet Comment History & Comment Note
So lets see what the Comment History feature does. Suppose you have a commentator who is commenting on your blog for the first time. His comment will go directly in the SPAM queue. Once you approve his comment, Akismet takes a note of it & approves that particular person's comment automatically the next time he/she comments.
[ad#adsense-incontent]
After this Update, once you approve it you will see a note provided by Akismet on the top right corner of every comment appearing in your 'Recent Comments' Dashboard widget. Check the image below for better understanding.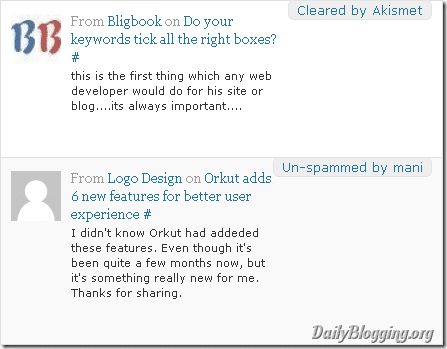 Now the difference between the two comments is, the comment posted by the first user (BligBook) is already cleared by Akismet as I have approved his first comments. The comment posted by the second user (Logo Design) was his first comment on DailyBlogging. So it went straight to the SPAM queue. I approved it & so Akismet added a note that it was unspammed by me. When you click on that note you will be taken to the editing page of that comment. Below the comment edit box, you'll see a new widget called "Comment History" which displays the time-stamp & the action taken on it.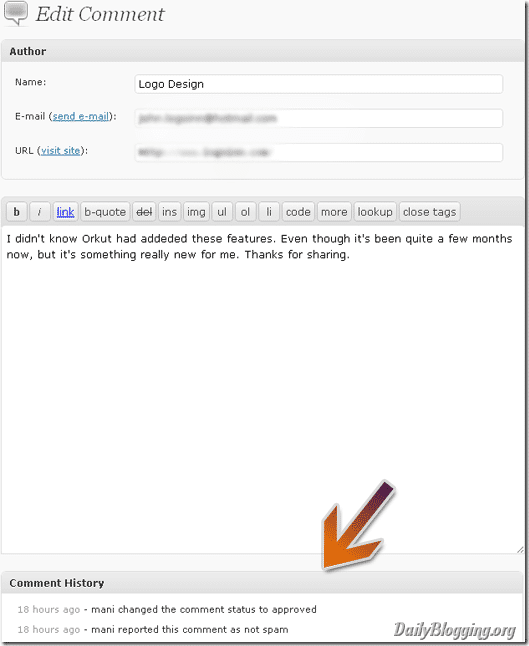 Now this feature would be very useful for Multi – User blogs. So the main admin would know who approved that particular comment. If you haven't downloaded Akismet, then you can go to their plugins page to download it <link>.
You can Subscribe to Our Daily Updates / RSS Feeds to catch the latest updates of Akismet & WordPress plugins.
How do you find this feature ? Will the Comment note be helpful to you ??