So how is May going for you ? Hope, it's rocking & you are able to make every day productive enough. If you are a regular reader of DailyBlogging, you would know that we release the Traffic Stats for every month and a couple of days ago, we released the Traffic Stats for April and the Monthly Wrap-up.
If you took a closer look at the traffic stats report, then you'll notice that the traffic we receive from search engines is over 5000. Obviously it's not possible for me to post a report on the search engine traffic we get daily. But anybody would be interested in knowing that, right ?
Moreover, if you are a competitor in a niche which is relatively new, then you'd be itching to know how much search engine traffic that guy's site gets daily.
Before we continue, you might want to read some SEO Tips to Optimize your site for search engines.
SEO Tips :-
Find out the Traffic received from Search Engines using SEMRush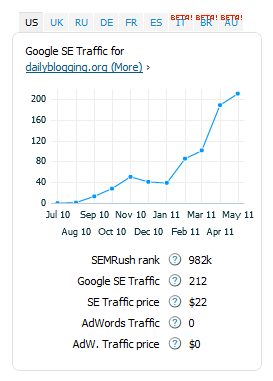 SEMRush will help you in getting the number of search engine traffic a site gets. Just go to their site & enter the site's address in the URL field. The beauty about that site is, not only you'll get the number you want, but also get some additional information about the site viz – Keywords, traffic received by that site from a particular keyword, position of the site in the search results for individual keywords (i.e. SERPS) & Competitor sites.
To quicken up the process you can put your site's URL instead of the 'www.dailyblogging.org' in the below code.
www.semrush.com/info/www.dailyblogging.org
Yes, there are plenty of such sites which give information like what SEMRush gives. But what I found special about SEMRush is that, the statistics provided by it is close to the actual number.
From the past two days, I was comparing the search engine traffic report provided by Google Analytics with SEMRush's figure and surprisingly it was close by.
Use Chrome
SEO
Extension to find it quickly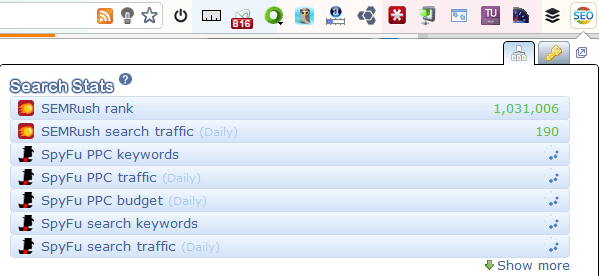 If you don't have enough time to go to their site & enter the URL every time you want to find the search engine traffic of any Site, then you got a fix in the form of a Chrome Extension. Chrome SEO offers you a lot of statistics and one of them is SEMRush's approximate number.
So if you are a Chrome user, then you must quickly install the Chrome SEO Extension.
If you liked this post then 'Like Our Facebook Page' too.
Is there a better alternative than SEMRush in your eyes ?