Today we have made a hell lot of progress in the field of Technology which resulted in the existence of Social Media. Now, at least 3 members of a family (consisting of 4 members) use Social Media to a large extent. The reasons for using it would be different, but the usage almost remains the same.
Suppose you read a person's profile on Facebook. But you want to know more about that person in terms of : What he/she is doing at the moment,etc. A simple logic here is that, people update their Twitter handle much often as compared to their fb profile. Checking the same person's fb & twitter accounts at different places is not that easy. What if you get the same info at one place ?



That's what About.me does. It allows users to create custom Splash pages wherein the user could select an image of his/her choice, add social profiles & place your website's link.
Also Read
This would help the user looking for your updates as well as you. Below are a couple of features that About.me offers.
Fully Customizable Splash Pages
This time it's not just partial customization. About.me allows you to create a custom page with your own choices in terms of alignment, images, profiles, text color, etc.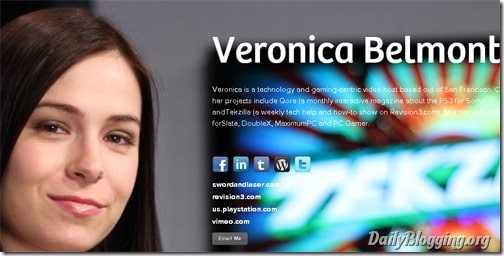 I wish they had a system which allows us to write our own codes instead of using the predefined pages which need to be customized.
Analytics Dashboard
Yes, it uses Google Analytics to determine how many visitors could reach out to your social profile using your Splash Page. Also, it gives you a detailed analysis of the updates you have made using your chosen Social sites.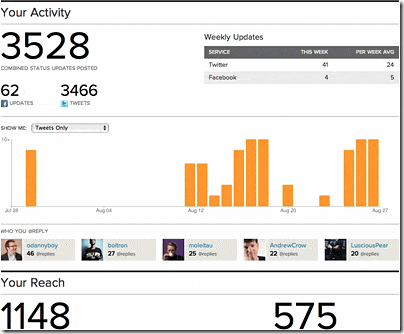 <Image Credit>
So if someone asks you the count of updates you make in a week, then hit About.me & check the stats.
Read : DailyBlogging Traffic Stats for August 2010
Show off your WordPress Blog too in your Splash Page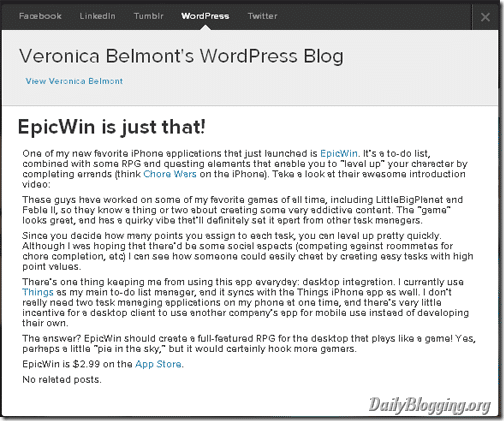 Wordpress is so famous that it has managed to gain an entry into the list of Social Media sites. So, now you can easily show your latest posts in an exclusive tab for WordPress in your Splash Page.
Read : Top 10 WordPress Plugins which I use on DailyBlogging
/*

Important Note

*/
---
About.me is Currently in Private BETA. So you need to just fill out the form on their homepage & they would reserve your Splash Page name when they open the site publicly.
Do Subscribe to our Daily Updates to ensure you miss none of our posts, even by mistake!!
Did you like About.me's Concept ? Have you used a similar site to make Splash Pages in the past ?