A few days ago I was reading a blog post on ProBlogger. It was written by a Guest Writer & one sentence mentioned by him attracted my attention. It read "Content is King, but unseen content is useless".
That sentence is 100% true. Without proper promotions your golden content would be nothing more than just crap. So promoting blog posts is absolutely necessary & it's important to do it in the right way.
Your Blog may rank well in search engines, but along with Organic traffic your blog does need some referrals from Social Media or Blogging Community sites. Now you would ask why.
The reason for that is, today there are millions of blogs which are active in the blogosphere out of which hundreds or thousands have already created a benchmark in our minds. So the competition is pretty much on the higher side & to compete with those big names (blogs) you need your visitors i.e. blog audience to be strong and active.
You cannot rely on just a single traffic source in the form of search engines. Recently due to the Panda Effect, blogs who were receiving majority of their traffic from search engines received a huge set back. Many bloggers even lost faith & took a break from blogging. Some bloggers did give up.
The ultimate solution to this is either you start producing quality content & build quality links to rank well in search engines OR you engage well with your fellow bloggers who are active in the blogging community.
So what I'm going to do is, list down a few DoFollow Blogging Communities which will not only help your blog posts to rank well in SERPs but also attract some new visitors.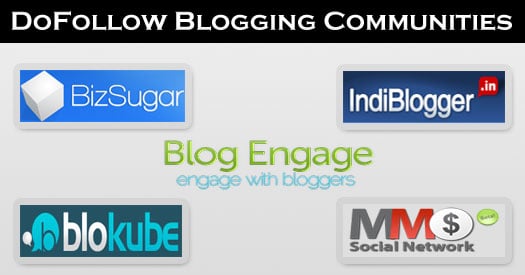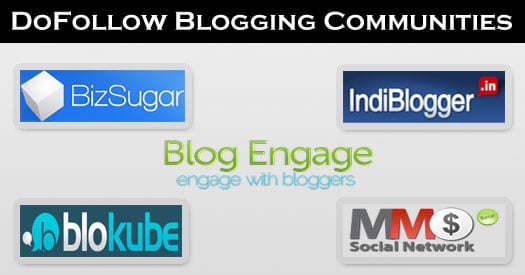 If your Blog is all about Blogging Tips, Social Media & SEO Tips then there is no place better than Blog Engage (BE) to promote your blog posts. It is the most active Blogging Community owned/founded by Brian. I submit all my blog posts there & it does fetch me some traffic. The more important thing is that, with Blog Engage you are able to Engage with other bloggers in your niche.
Last month, Blog Engage added the Chat function and Chat room powered by Comet Chat. I quite like the addition of the chat & the chat room feature, because the latter can also be used for requesting Blog Engage Votes, Stumbles, RT's & Likes.
Blog Engage also allows AdSense Revenue Sharing. So don't forget to add your AdSense pub ID while filling your profile. BE is now a Invite only site. So if you wish to join, then drop me a comment and I'll Invite you using your Email ID.
Unlike Blog Engage, Indiblogger is dominated by Indian Bloggers. Also, it's not the best place for submitting 'Blogging Tips' like posts. But for HowTo's & Technology type blog posts it's the best one to submit to. In the early months of this blog, I used to write more on Technology & with that I had got lots of vote ups from Indiblogger.
I was nearly going to win a content there, but finished third or forth at the end. The only drawback I find in Indiblogger is that, it doesn't provide widgets. If widgets are introduced, then I'm sure it will become a hyper active community as visitors will be able to directly vote up our blog posts.
Blokube is very much similar to Blog Engage in terms of scripting. But when it comes to the Categories, Blokube focuses more on niche topics like SEO/SEM, Marketing, Entrepreneurship, Blogging,etc. It is owned by my friend Devesh Sharma who is also a blogger at TechNShare.
Blokube was started by the end of 2010, so you'll find it to be a bit less active as compared to the other Blogging Community sites. So, if your blog revolves around those niche topics, then you need to make it a point to submit your posts to Blokube.
As the name suggests, MMOSocialNetwork is a Blogging Community site where you can submit only Make Money Online (MMO), Blogging Tips and Social Media related posts. So if you've just written a post related to Approved AdSense Account  or Infolinks Related Tags, then submit it and you'll get a good number of visits from there.
MMOSocialNetwork was started in the early part of 2010. It is owned by Hesham from Famous Bloggers. Like Blog Engage, even MMOSocialNetwork allows AdSense Revenue sharing. So you can actually earn some money by submitting some quality posts.
It is a Blogging Community Site which deals with all the Business topics, Social Media, Marketing Strategies, PR & a bit of Technology Resources. So submit to Bizsugar only if you've a business or marketing related blog. The activity at BizSugar is pretty good. So expect some vote-ups & unique visits after submitting a nice post.
I haven't listed all the DoFollow Blogging Communities as you can't submit your blog post to every community. It is pretty time consuming.
Remember, the thumb rule of getting vote-ups in the above communities is to remain active on each of them. Don't just submit your posts there, but also vote-up other's posts.
I hope you enjoyed this article & it will help you getting more traffic to your blog posts.
So do you submit your blog posts to the above mentioned Blogging Communities ? If no, then which other sites you prefer to submit your posts ??