In order to keep your blog working and keep your readers checking your blog out daily, there is one simple rule – you need new content on a regular basis. However, that does not mean that you need to be in front of your computer all the time and never take a break.
Just like any job, you will need a break from blogging in order to refocus and recharge your batteries. And while everyone needs to take a vacation ever now and then, when it comes to blogging, this is no excuse for not updating your content regularly.
Here is what you need to do in order to make sure that you are able to constantly update your blog with fresh, original content, even when you are on vacation.
Prepare content in advance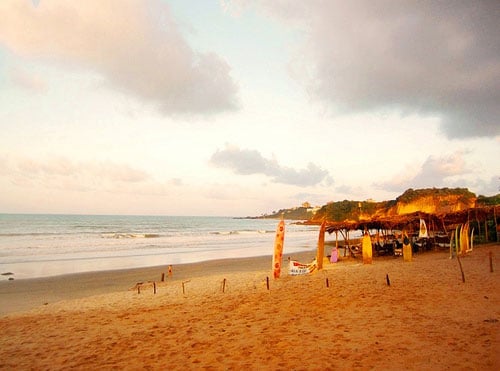 [Image Credit : Andrezza Dias Haddaway]
If you want to maintain and update a blog effectively, you need to always have some content available for emergencies. You cannot simply live from one blog post to another, because that could catch up with you. You don't even have to be on vacation; perhaps you catch a bad flu or have an emergency in your family that demands your attention.
Having fresh content prepared ahead of time that is ready to be posted is essential to running a good blog that gives quality updates regularly. Take some time out to write extra content that you can use in the future. If you aren't having a particularly eventful weekend, spend some time writing instead of watching television.
Having a good amount of content waiting in the wings will allow you to use it when you are either unable to write blogs or you simply don't have any inspiration.
Another good idea is to accept guest posts. If you really are strapped for time, you can gather a collection of excellent guest posts that you will be able to use to fill in at times during which you are unable to create new content. Be sure to have some content on the backburner, so that you will be able to take time off from blogging when you need to.
Schedule blog posts for publishing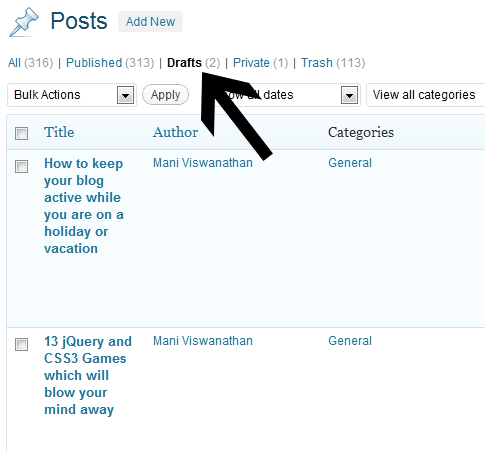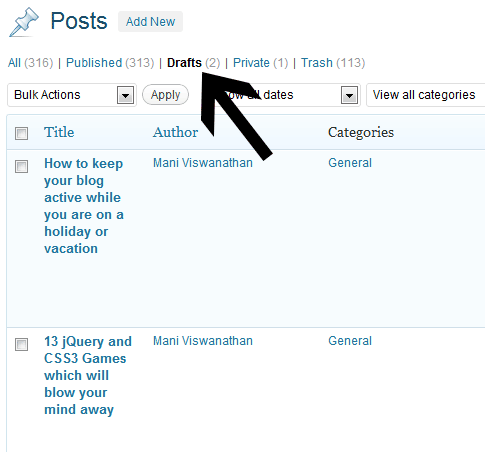 All of the most popular blogging platforms enable you to make a schedule for posting future blogs without have to be there to let them go live in real time. WordPress and Blogger certainly have these features.
If you know that you are going to be on vacation for a couple of weeks, you can make drafts of three or four new blog posts and then pick the time at which you want each of them to go live. In most of the best blogging platforms like WordPress, you are able to draft your posts up in advance, and then decide whether you want to publish the posts immediately or at a later date.
If you would like to schedule a post to be published in the future, you can precisely state on what day and at what time you want the post to go live.
This feature allows you to keep new content appearing on your blog even when you are on the beach and thousands of miles away from your computer. Having extra content written ahead of time and then just instructing your blogging application on when these blog posts should be published allows your blog to continue to look busy even when you are out relaxing.
Share new content automatically
Now that you have set up your blog posts to be published automatically while you are on vacation, all you need to do is set up a method that will help you to share them remotely as well. One of the best tools for this is HootSuite, but there are many more similar ones.
When you link a tool like HootSuite with your blog, you can set it up to share your new blog posts on all of your relevant social media outlets automatically. So once your blog platform publishes your new post, it will get shared automatically on sites like Twitter, LinkedIn, Facebook, and wherever else you commonly share your published posts.
You can also schedule & share blog posts to your Twitter, Facebook & LinkedIn profiles using a web app called Timely. There are other schedulers too, but Timely doesn't have a limit on the number of posts you can share at a time. Also, it automatically calculates the best times to push-out the scheduled content.
By making sure that you have these three easy steps in place, you will be able to go on vacation without having to put your blog to bed for the time being. These methods and tools will allow you to retain a blogging presence even when you're not present at your computer.
So do you follow these tips when you are far away from your blog ?